Press
Oscar Night Photos of Jon Hamm and January Jones; EW Ready For Mad Men's Return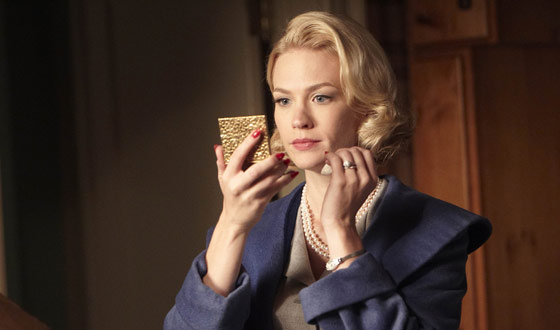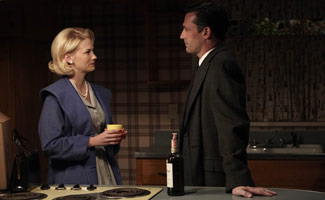 This week, media photographers can't get enough of Jon Hamm and January Jones on the red carpet and around town, while Entertainment Weekly and USA Today highlight Mad Men's Mar. 25 return. Read on for more Mad Men news.
• Jon Hamm was spotted out and about in L.A., attending the Vanity Fair Oscar party (JustJared), the Hollywood Domino Gala (Los Angeles Times) and at a basketball game with his alma mater, the University of Missouri (ESPN).
• January Jones was at the Vanity Fair Oscar party too. Celebrity-Gossip.net thinks she looked "stunning," while StyleBistro.com was excited to see Jones "take the red carpet by storm in a dramatic gown by Wes Gordon."
• Mad Men's Season 5 debut on Mar. 25 is on Entertainment Weekly's calendar of "Stuff We're Looking Forward to in March." [No Link.]
• USA Today includes Mad Men in its round-up of what to expect on the small screen this spring.
• Forbes chatted with Jon Hamm about the state of independent film, especially with regards to Friends with Kids, which he starred in and produced. Entertainment Weekly features the movie in an article titled "Spring's Hottest Cast." [No Link.]
• Hamm told E! Online he and longtime partner Jennifer Westfeldt won't be having kids anytime soon: "I'm like a six time uncle. I have enough kids in my life."
• The new Mad Men Season 5 poster is featured by several news outlets, including The Hollywood Reporter, TV Guide, TVLine and Gothamist.
• While interviewing Paul Rudd and Jennifer Aniston, MTV presented the duo with a video question from Jon Hamm.
• The Los Angeles Times raves, "I can't stop praising Jared Harris."
• E! Online thinks Steven Spielberg's Lincoln will get a best picture Oscar nomination next year, in part because of Jared Harris.
• The Associated Press reports that all of the PaleyFest panels — including Mad Men's on Mar. 13 — will be live streaming.
• The Daily Mail has photos of January Jones with her son Xander.
• BlackBook profiles Christina Hendricks, who marvels at her character Joan's confidence.
• The Guardian provides a primer to Mad Men's main characters, catching viewers up on what's happened in the series so far and what might happen in the upcoming season.
• Anticipating Season 5, The Independent thinks Mad Men "seems sure to be a hit."
• TV Geek Army is impressed by Jon Hamm, channeling Don Draper, recording an answering machine message in Hungarian.
• To the Sacramento Bee, Jon Hamm reveals himself a fan of NBC's comedies and Comedy Central's The Daily Show and The Colbert Report. [No Link.]
• Fashionista previews the Mad Men Banana Republic collection, which "features classic (and super-flattering) retro shapes."
Read More