Press
Jon Hamm Appears on Conan; TV Guide Shares 10 Things About Mad Men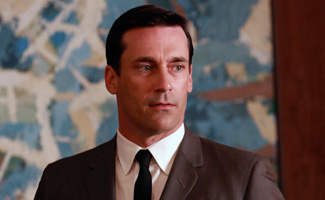 This week, Jon Hamm appears on Conan O'Brien's show (and also speaks with The Hollywood Reporter), while TV Guide learns 10 surprising things about Mad Men at PaleyFest. Plus, Entertainment Weekly provides quotes from Matthew Weiner that didn't make it into last week's cover story.
• Jon Hamm sits down with Conan O'Brien and talks about his early days as a struggling actor, when he was "dispossessed of [his] car by the city of Los Angeles."
• The Hollywood Reporter conducts a video interview with Jon Hamm, who observes that directing a Season 5 episode was "a blast."
• A Mad Men PaleyFest event revealed 10 surprising things about the show to TV Guide and elicited a ten-best list of quotes as compiled by BuzzSugar, while Deadline, The Wall Street Journal, Variety, The Futon Critic and Zap2it all covered the panel. The Daily Mail has photos of Mad Men's cast at the event as well as the screening of the Season 5 premiere.
• Entertainment Weekly's Mad Men cover story is highlighted by BuzzSugar and Indiewire. EW offers up bonus quotes from the men and women of the cast, plus Matthew Weiner.
• Matthew Weiner and the cast talk to TV Guide about Season 5 and name-drop some of Mad Men's celebrity fans, such as President Obama, Gary Oldman and Daniel Day-Lewis.
• USA Today talks to Jon Hamm and John Slattery about directing episodes of Mad Men — with Hamm observing, "I was inspired and bucked up by watching Slattery do it last year."
• About the two-hour Season 5 premiere, Matthew Weiner asserts to The Hollywood Reporter, "It is a complete story. The ending of the second episode is related to the beginning of the first episode."
• David Chase of The Sopranos reminisces to The New York Times about Matthew Weiner's time as a writer on the show.
• Entertainment Weekly writes about Draping, and Ad Age checks in on the phenomenon too. The St. Louis Post-Dispatch describes the pose: "reclined, arm casually draped over the back of an armchair, a cigarette dangling from his fingers…" (Learn more about Draping here.)
• ABC News gets a guided tour of the Mad Men set from Matthew Weiner, and Jon Hamm makes a cameo in the conference room. Meanwhile, Mad Men's assistant propmaster gives Rock Center with Brian Williams a little tutorial on the herbal cigarettes used on set: "How they can smoke them and look like they're enjoying them is beyond me because they're disgusting."
• John Slattery jokes with The Wall Street Journal that he drinks every 20 minutes on the Mad Men set: "I'm a method actor. It's all about the work."
• Access Hollywood chats with January Jones about motherhood ("I adore it," she says), while SheKnows lists three reasons why Jones is so much more than Betty Draper.
• The Los Angeles Times has the new Season 5 trailer, commenting, "The upcoming return of Mad Men has fans licking their lips for all things Don Draper." It also presents a zombie-themed Mad Men promo that will air during The Walking Dead's season finale, describing it as "a visual ode to the Dead."
• Slate explores how Mad Men has addressed the issue of race and what Mad Men Season 5 might bring in that regard.
• The Daily Mail interviews Jon Hamm, who talks about his early life and the fashion sense he's learned from Mad Men — though he describes his personal style as "aggressively casual." Hamm also chats with the New York Post about fashion: "People recognize me, but I'm not around in exquisite tailored suits with a shellacked head."
• Elisabeth Moss tells Marie Claire about having Jon Hamm as an acting partner: "it's really enjoyable to be in a scene with him." Moss also speaks with TheInsider.com about Peggy's trajectory: "I've had more fun this season than any other season playing Peggy."
• Christina Hendricks speaks with the Daily Mail about her Anne of Green Gables obsession: "There was something about her that spoke to me – and I wanted to have her beautiful red hair."
• The Huffington Post credits Mad Men with making it "an accepted reality that basic cable can create the highest quality shows on TV and win an Emmy, or four."
• The Associated Press has recommendations for eating and drinking at New York City restaurants and bars mentioned in Mad Men.
• The Sydney Morning Herald thinks one of the best things about Mad Men is "the way its characters are so multifaceted – despicable and then vulnerable, often redeemed at the brink."
• Good Housekeeping highlights Mad Men's March 25 return and says, "Life has been dull without Don Draper." (No Link.) In its Spring TV preview, The Atlantic advises, "It's Important TV, but don't let that scare you. It's also deeply entertaining."
• The Daily Beast previews Mad Men as one of the shows worth watching this spring, noting, "Season 5 of Mad Men is bound to be as precise and articulate as we've come to expect."
• TVLine, HitFix, Zap2it, the Daily Mail, BuzzSugar, Access Hollywood and Cinema Blend all take a look at the official Season 5 Mad Men cast photos.
• Pop Sugar provides a four-minute recap of Mad Men's Season 4: "if you've forgotten what happened the last time we left off with Don and Sterling Cooper Draper Pryce, not to worry."
• Delta Air Lines' Sky magazine profiles Janie Bryant, who talks about being inspired by classic Hollywood movies, including Guys and Dolls, "an obsession of mine." (No Link.)
• Film School Rejects presents a clip from Detachment that prominently features Christina Hendricks.
• Rich Sommer tells Fargo, N.D.'s INFORUM, of Season 5, "For my money, it's my favorite season."
• Slackerwood raves about Joel Murray's performance in God Bless America: "if you thought he was good as Freddy Rumsen in Mad Men, you're in for a treat, as his performance is likely to top best-of lists this year." Film School Rejects states, "Put simply, Murray is exceptional."
Read More