Uncategorized
Q&A – Jessica Paré (Megan Draper)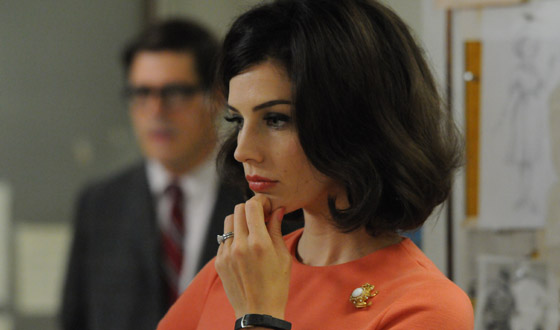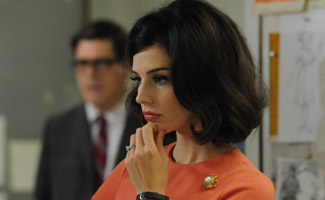 Jessica Paré, who plays Don's new wife, Megan, speaks to AMCtv.com about being addicted to "Zou Bisou Bisou," dealing with stage fright and wearing vintage undergarments.
Q: Welcome back! Did you ever dream Megan would return as Mrs. Draper?
A: I dreamt a lot of things, but I didn't want to get my expectations up. I really wanted to see what Matt [Weiner] and the writers would come up with because it's always better than what I could possibly imagine.
Q: So you weren't a hundred percent sure that Don and Megan would marry?
A: No, I had no idea whether I would have a job at all come Season 5. People were like, "Of course you're gonna come back, you're engaged to Don Draper." And I'd say the only thing you have to think of is: It opens with a closed casket, Don's in the front row winking at a blond down the aisle. Done. Bye, Megan!
Q: Did the party in the Season Premiere feel like a reunion for the cast?
A: I definitely think it felt that way for the people there. I think that they were coming to it like, "Yay, we're all back together!" — but for me it definitely felt like a new gathering. And then it was embarrassing to have to get up and do the song and dance in front of all these people that I was really just meeting. It's like a hazing!
Q: So you were nervous about the song and dance?
A: Yes. I'm not a trained dancer — I know, I know, you're shocked, I'm sure. [Laughs] And you know it was my recording — I did re-record the song. So it was a lot of things that I don't feel extremely confident about. I was given all of the best tools — I worked with an incredible choreographer. And David Carbonara, who does the music for the show, he was with me when I recorded the song. So was Matt. But it's still a little bit unnerving.
Q: So you'd never done any singing like that?
A: Never. I played a bass player and a singer in a movie once, but I totally lip-synced to everything.
Q: Are you surprised the song has already become so addictive?
A: I know that it's addictive because I certainly had it in my head for about seven months, and when we shot it, everybody was singing it whether they meant to or not. They were just wandering around the set humming or whistling "Zou Bisou…"
Q: Do the clothes feel less like "costumes," given Mad Men's influence on contemporary fashion?
A: Janie [Bryant] does such an amazing job. It never feels like I'm wearing somebody else's clothes or that I'm wearing stiff vintage costumes. It always feels like an outfit that I would probably wear out on the street. I know she had a lot of fun with Megan for this episode. Choosing that [party] dress was a lot of fun, with those amazing sleeves. And that tied into the choreography [for the scene].
Q: Speaking of costumes, tell me about the lingerie you wore in the "house cleaning" scene…
A: It's vintage stuff. It's funny, the scene is so risqué…but it's like the hugest undergarments. I mean, it's quite large. [Laughs] It's not very skimpy.
Click here to purchase the vinyl record of Jessica Pare singing "Zou Bisou Bisou."
Click here to read an interview with Mad Men Series Creator Matthew Weiner.
Read More