Press
TV Guide Reports on Various Pranks by the Mad Men Cast When Jon Hamm Was Directing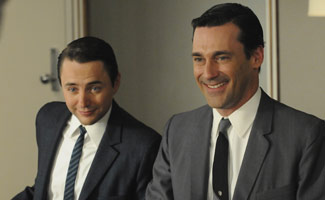 This week, TV Guide describes some hijinks Vincent Kartheiser, Elisabeth Moss and John Slattery tried to pull when Jon Hamm was directing an episode. Read on for more Mad Men news.
• TV Guide reports on practical jokes the Mad Men cast played on Jon Hamm when he directed his first episode.
• Wonder what Don Draper would sound like on your answering machine? Jon Hamm recorded an outgoing message (in Hungarian) as part of an interview for the Sundance Channel.
• The creator of PBS's Downton Abbey tells the New York Times he's going to buy all of the Mad Men boxed sets.
• Elle and Us magazine report that Estee Lauder is launching a Mad Men-inspired lipstick and blush, available at Bloomingdales.
• Entertainment Weekly muses about whether Don and Joan should hook up before the series ends.
• AMC's promos for Season 5 are featured by Entertainment Weekly, The Hollywood Reporter, TVLine, and TheWrap.
• The Daily Mail has a photo of Kiernan Shipka in "a pretty vintage-style dress" at the Writer's Guild Awards, where she and series creator Matthew Weiner presented. ShowBiz411 says Shipka was "the presenter that got the biggest laugh," citing her Mommie Dearest imitation of Faye Dunaway.
• Christina Hendricks talks to the Mirror about how it took her a long time to feel pretty.
• Hendricks also speaks with the Birmingham Post about her English roots.
• Just Jared has a few photos of Hendricks leaving a party as she continues to make the rounds in London.
• ComingSoon.net has a clip of Hendricks with Adrien Brody in her new movie, Detachment, due in theaters on Thu., Mar. 16.
• Detachment director Tony Kaye talks to AMCtv.com about his love for Christina Hendricks and calls her an "oil-painting beauty."
Read More