Press
Jon Hamm Interviewed by Esquire and Chatted up by Miss Piggy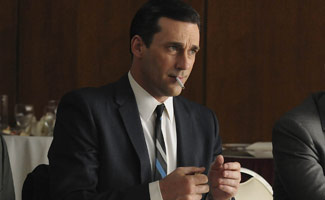 This week, Jon Hamm fields questions from both Esquire and Miss Piggy, while both Hamm and Christina Hendricks are photographed on the red carpet for the BAFTA Awards. Read on for more Mad Men news.
• Jon Hamm is profiled by Esquire, which notes that Hamm is "a hell of a nice guy."
• The Washington Post has a video of Jon Hamm cozying up to Miss Piggy at the U.K.'s BAFTAs, where he was a presenter. Just Jared and OK! magazine have additional photos of Hamm and Christina Hendricks at the event.
• New York Magazine provides a "marathon training schedule" for catching up on Mad Men before the series returns on Mar. 25.
• Esquire's March issue [no link] features Elisabeth Moss in its Funny Joke from a Beautiful Woman column.
• The New York Times says John Slattery "has some wonderful moments" in Return. The Los Angeles Times thinks his character "injects a welcome shot of energy."
• StyleBistro has photos of Hendricks at the Elle Style Awards.
• Christina Hendricks tells the Daily Telegraph she's working hard to perfect her English accent for a new film role.
• Janie Bryant appears on The Dr. Oz Show, talking about what "can help you feel confident and beautiful and sexy and conquer the world."
• TV.com, re-watching all of Mad Men, finishes off Season 1, calling the finale a "modern classic."
• Slate wonders whether Mad Men is more careful about avoiding language anachronisms than PBS' Downton Abbey.
• The Hollywood Reporter says Tribeca Film has acquired the U.S. rights to The Giant Mechanical Man, which features Rich Sommer.

• Playbill reports that Rich Sommer is joining the cast of Harvey, a Broadway revival.
• Shortlist collects fan-designed posters touting Mad Men's fifth season.
• For Valentine's Day, New York magazine presents TV show-based cards, including one featuring Roger Sterling.
• According to HollywoodNews.com, Robert Morse will present at this weekend's ACE Eddie Awards.
• Gameranx picks Aaron Staton's Cole Phelps in L.A. Noire as one of the 10 Hottest Guys in Gaming, noting, "there is no denying he is one good looking man." Staton is also nominated for a British Academy Video Games award in the best performer category for L.A. Noire.
Read More