Press
Photos of Jon Hamm at the Super Bowl; Christina Hendricks Talks Tech With USA Today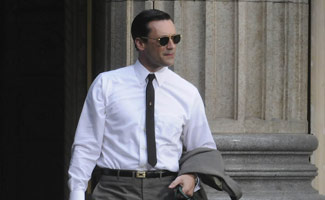 The AP catches up with Jon Hamm in Indianapolis before the Super Bowl, while USA Today's "Talking Your Tech" video segment chats with Christina Hendricks about the jump to high-tech gadgets. Read on for more Mad Men news.
• The Associated Press talks to Jon Hamm about his first time attending the Super Bowl, and PopSugar has a photo of him presenting at the pre-Super Bowl NFL Honors ceremony.
• Christina Hendricks explains to USA Today why she prefers phone calls to texting.
• Variety reports that Matthew Weiner and Kiernan Shipka will be presenters at the Writers Guild of America West awards show on Feb. 19.
• Us magazine highlights the Banana Republic collection co-designed by Mad Men's costume designer Janie Bryant. The Hollywood Reporter also checks out the collection.
• The Wall Street Journal interviews Jared Harris about his first job ever, as a busboy and dishwasher in a NYC restaurant.
• TV Guide talks about the appearance of Jon Hamm, Jennifer Westfeldt and their dog Cora on PBS' Martha Speaks on Feb. 20.
• The Houston Chronicle analyzes the behavior of some of TV's male characters, including Don Draper: "Who knew an existential crisis could be this much fun?"
• Grantland interviews Eric Ladin (who plays Betty's brother) about his career.
• NewNowNext considers Jon Hamm "one of the funniest men in Hollywood."
• TV.com is re-watching Mad Men from the beginning. Season 1's "New Amsterdam," "5G" and "Babylon" comprise the second installment, while the third has "Red in the Face", "The Hobo Code" and "Shoot." The next set: "Long Weekend" and "Indian Summer."
• Jennifer Getzinger, one of the show's directors, gives Radio Boston a behind-the-scenes look at Mad Men.
• PopMatters investigates the use of gender in Mad Men, including "its complex assessment of…female identity."
Read More