Press
NY Mag Puts Draper on a Fictional Mag Cover; Christina Hendricks on the Real Cosmo Cover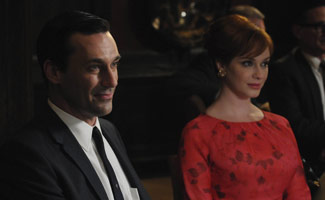 New York magazine invents a faux magazine just for Don Draper, while the Huffington Post previews Christina Hendricks' Cosmopolitan cover shoot and interview. Read on for more Mad Men news.
• New York Magazine commissions illustrator Jon Defreest to create a Scotch & Smoke magazine cover featuring none other than Don Draper.
• The Huffington Post gives readers a sneak peek of Christina Hendricks' March Cosmopolitan cover and six-page shoot.
• USA Today highlights Banana Republic's encore capsule collection, inspired by Mad Men and designed in partnership with the show's costume designer, Janie Bryant.
• Series Creator Matthew Weiner speaks to NBC Chicago about the 1960 movie The Apartment and its influence on Mad Men: "I always try and emulate that kind of storytelling, where the payoffs are visual and there's a lot of misunderstanding, but they're believable."
• The Hollywood Reporter shares a trailer for Seeking Justice, starring January Jones and Nicolas Cage.
• The New York Post reports that Jon Hamm and Jennifer Westfeldt recently ate at Al Pacino's table in the legendary New York restaurant, Joe Allen.
• TV.com is rewatching each episode from Mad Men's first four seasons to get ready for the Season 5 premiere, and providing "review notes" for each.
• January Jones tells the Huffington Post that she can't watch anything longer than 30 minutes because of her baby, while Rich Sommer says he wants to be the butler on Downton Abbey.
• The U.K.'s Shortlist names Mad Men one of the 50 coolest TV shows ever.
• John Leguizamo talks to the U.K.'s Telegraph about risk-taking in television: "Look at Mad Men and Breaking Bad. They're incredible and everyone rushes home to see these shows."
• Collider.com has the trailer for God Bless America, a film starring Joel Murray (Freddy Rumsen).
• Slate believes the Murray brothers (Joel among them) are "America's greatest set of acting brothers," even surpassing the Baldwins.
• HitFix reports on Eric Ladin (who plays Betty's brother) who appears on last week's episode of FX's Justified.
Read More