Uncategorized
Q&A – Sheila Shaw (Jeannie Vogel, Trudy's Mom)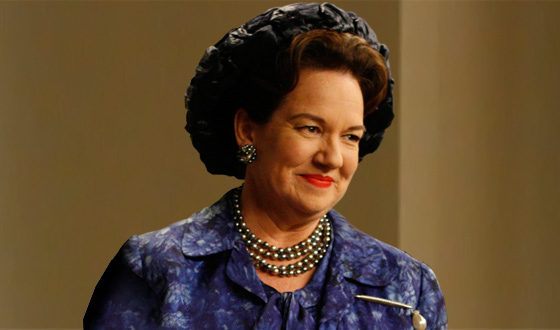 Actress Sheila Shaw, who plays Jeannie Vogel (Trudy Campbell's mother) on AMC's Mad Men, talks about how relationships have changed since the '60s and her own marketing schemes as a child.
Q: When you first became involved in Mad Men, how much were you told about your character's background?
A: I was told that it was a co-star role — they said nothing about it recurring. As far as the character goes, all they said was she's "fairly wealthy." So it was a really fun audition, because I usually got called in to play a teacher or a social worker, and I was like "Oh, good. I can dress up!"
Q: You and Joe O'Connor (who plays Tom Vogel) have such a believable relationship as husband and wife. Have you worked with him before?
A: No, we hadn't worked together. We just clicked. We had so much fun when we were on the set. We couldn't stop laughing with each other. And he's such a great actor. Talk about good casting — Matt [Weiner] probably saw that. Also the casting directors, Carrie Audino and Laura Schiff, I've known them for years and they've called me in for different parts. They're so great about remembering people.
Q: Jeannie defers to her husband for most decisions. Who wears the pants in your own marriage?
A: My husband and I have a great partnership. We share the decisions on most things. But the time period of the '60s… I can see how women were very like "whatever you want, honey." I can see how they got caught up in that — especially, the older women… They suffered through. It's something they don't even think about. But I think Jeannie and Tom have a lot of fun. I get a feeling that she likes going out, having a good time, likes being taken care of — and he treats her well.
Q: Jeannie is a very devoted mother to Trudy. Do you have kids of your own?
A: No, but my mother and I were so close. When I was a child, it was the same time period as Mad Men. My mother was very glamorous, a very beautiful woman. So I think I could relate to being Trudy's mom, using the memories that I had.
Q: Jeannie and Tom buy an apartment on Park Avenue for Trudy and Pete. What's the most extravagant gift you've ever been given?
A: I don't think I've been given it yet. [Laughs]
Q: If you had a son-in-law like Pete in real life, what would your advice to your daughter be?
A: I would say to stand your own ground. Make sure that you aren't completely smothered and ignored by his career. Keep him on track as far as family as a priority.
Q: You worked at an amusement park selling orange juice as a kid. Did you ever use any Sterling Cooper Draper Pryce-like tactics to promote sales?
A: It was at Cypress Gardens in Florida and the juice came in these little plastic orange sippers. So me and my friend Peanut came up with this idea: After the water-ski show, take this tray of sippers and walk around the Orange Bowl where the juice was sold. We had these orange and white polka-dotted smocks that we wore… really stood out. People would see us, stop us and ask, "Oh, where can we get that juice?" So that was some good marketing.
Q: I read that you were a champion golfer as a teenager… If you could play golf with any Mad Men characters, who would you pick?
A: Definitely, Joan and Peggy. I just think that would be an absolute blast!
Click here to read an interview with Joe O'Connor, who plays Tom Vogel on Mad Men.
Read More