Press
Mad Men Season 5 Debuts With Two-Hour Premiere on Sunday, March 25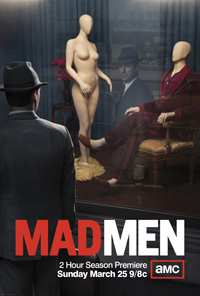 As one of the most highly anticipated season premieres of the year, AMC announced today that the Emmy and Golden Globe Award-winning drama Mad Men will be back with a two-hour Season 5 Premiere on Sun., Mar. 25 at 9pm ET/PT. The episode is written by Matthew Weiner and directed by Jennifer Getzinger.
Following the premiere, on Sun., Apr. 1, Mad Men will return to its regular timeslot at 10pm ET/PT with an episode written by Erin Levy and Matthew Weiner and directed by Jon Hamm.
Fans looking to catch up on Mad Men can watch the fourth season On Demand, beginning Mon., Jan. 23, or set their DVR every Sunday morning at 6:00am ET/PT when AMC continues to air episodes from Seasons 1 through 4 (in order) leading up to the Season 5 premiere.
Created by Emmy and Golden Globe winner Matthew Weiner and produced by Lionsgate, Mad Men made history last September as the first basic cable series ever to win the Emmy for Outstanding Drama Series in four consecutive years. Mad Men stars Golden Globe winner Jon Hamm, Elisabeth Moss, Vincent Kartheiser, January Jones, John Slattery, Christina Hendricks, Jared Harris and Kiernan Shipka.
Check out SecretsAreBack.com for a countdown clock that shows exactly how close you are to the Mad Men Season 5 Premiere.
Read More