Press
Christina Hendricks Insists She's Not Like Joan; Matthew Weiner Talks About the Show's Genesis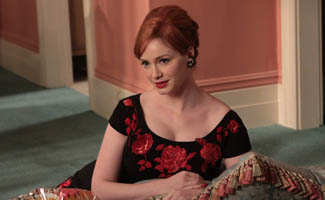 Christina Hendricks talks to Express about some of the ways that she's different from her character on Mad Men while series creator Matthew Weiner shares some of the inspirations for the series.
• Christina Hendricks tells the U.K.'s Express she's not like Joan: "My voice changes a little bit, the walk changes a little bit and the way I use my handshake changes a little bit."
• Matthew Weiner wins a Brandon Tartikoff Legacy Award and The Hollywood Reporter mentions Jon Hamm participated in a video tribute in which he jokes about his own good looks. At the award ceremony, Weiner talked about how Reaganomics inspired Mad Men (according to Variety) and how conditions in the workplace haven't really changed for women (according to Broadcasting and Cable).
• Multichannel News interviews Matthew Weiner about Mad Men's genesis: "I wanted to make a show that I wanted to watch. I thought there could be a more realistic version of what it was like for adults to go through that period in our history." (No Link.)
• The A.V. Club talks about why it's best to watch Mad Men one episode at a time, instead of in a binge viewing marathon.
• The Atlantic discusses how shows handle fatherhood, citing Mad Men as an example where the new baby doesn't significantly change the show's "overarching narrative."
• Forbes thinks the word "secretary" is making a comeback because of Joan's popularity ("the Mad Men effect").
• Ad Age reports that you can hear Christina Hendricks' "coquettish" voice in new ads for Baskin-Robbins then includes a video of one of the spots.
• PopSugar has photos of a casually-attired Jon Hamm running errands in West Hollywood. People runs a shot of him at Hollywood's Chateau Marmont.
• Meanwhile, GossipCenter has photographs of January Jones on her way to the gym.
• GossipCenter catches Christina Hendricks at a Sundance Film Festival fete. Rosemarie DeWitt (Midge) was also at Sundance, attending the premiere of Smash, which stars Breaking Bad's Aaron Paul.
• What Culture reviews the latest episode of FOX's Fringe, an episode "made even greater by the presence of Jared Harris." Entertainment Weekly thinks Harris "rocked the juicy part written for him." Den of Geek thinks Harris was "marvellously nuanced."
• Elisabeth Moss stars with Diane Keaton and Kevin Kline in Darling Companion, which now has an official trailer.
• Check out American Superstar to see Joel Murray on the poster for his new film, God Bless America, which opens May 11.
• According to The Hollywood Reporter, Abigail Spencer (Suzanne Farrell, Sally's teacher) wrote the script for a film called Wrong Number that will be produced by James Franco.
• The Orange County Register trumpets AMC's line-up of The Killing followed by Mad Men, saying the "one-two punch ought to be the best two hours of the TV week."
Read More