Press
Newsweek to Publish Mad Men Issue; Betty White Jokes About Stalking Jon Hamm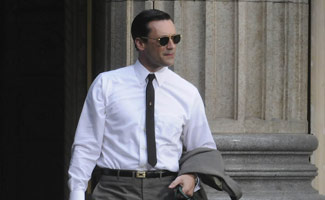 This week, Ad Age gets excited about the special Mad Men issue that Newsweek will publish a week before the show's March 25 Season 5 premiere, while Betty White admits she's got a thing for Jon Hamm. Read on for more Mad Men news.
• Ad Age reports that Newsweek's March 19 issue will be Mad Men-themed, with a cover story on the series and a feature on advertising's role in U.S. culture.
• In her new show, Off Their Rockers, Betty White jokes that Jon Hamm has taken out a restraining order on her. Check it out at the 1:35 mark.
• Jon Hamm talks to New York Magazine about the fun of directing a Season 5 episode.
• AMC's announcement of Mad Men's Season 5 Premiere on Sun., Mar. 25 was covered by TV Guide, The Hollywood Reporter, the Los Angeles Times, USA Today, the Wall Street Journal, and Deadline.
• USA Today reports that animated versions of Jon Hamm, Jennifer Westfeldt and their dog Cora will guest-star on PBS' Martha Speaks on Feb. 20.
• Us Weekly has a gallery of 30 Rock's best guest stars, including Jon Hamm who played "the impossibly handsome but quite unlucky Dr. Drew Baird."
• Wired has a diagram of romantic entanglements on Mad Men, asking "Who slept with whom? Who rebuffed whose advances? And who do we secretly wish would give in to a scotch-fueled coupling?" [No Link]
• The Denver Post looks at "loners" on TV, including Don Draper.
• New York Magazine has a photo of Elisabeth Moss in a "snug white dress" at a pre-Golden Globes party.
• PopSugar features a photo of Jon Hamm and Elisabeth Moss at a Golden Globes after-party.
• Socialite Life has a shot of Hamm at a different Golden Globes party.
• Celebrity Baby Scoop gushes over a photo of January Jones and her "adorable cutie" of a son.
• Us Weekly calls January Jones "radiant" in a photo from an event last weekend.
• Elisabeth Moss tells Postmedia News that she's "had more fun playing [Peggy] this season than probably any other season."
• Go to FirstShowing.net to see Christina Hendricks in the trailer for her new movie, Detachment, which costars Bryan Cranston and Adrien Brody and is set to open March 16.
• Film School Rejects reports that Jennifer Getzinger, who directed the Season 5 premiere, is slated to direct an adaptation of Neil LaBute's Some Girls starring Adam Brody.
• Check out a clip of Alison Brie (Trudy Campbell) on The Nerdist last week.
• The Hollywood Reporter says Abigail Spencer (Suzanne Farrell, Sally's teacher) is in talks to star in Joss Whedon's In Your Eyes.
Read More