Press
Jon Hamm Recruits Mad Men Cast For Benefit; LA Times Preps for Season 5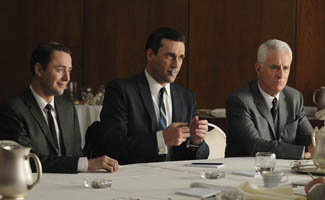 This week, the Wall Street Journal and other publications cover Jon Hamm, Elisabeth Moss, John Slattery and Vincent Kartheiser at a charity event while the Los Angeles Times helps fans get up to speed preparing for Season 5. Read on for more Mad Men news.
• The Wall Street Journal reports that Jon Hamm recruited the Mad Men troops to attend a benefit for St. Jude Children's Research Hospital.
• InStyle, Variety, and Socialite Life feature photos of the Mad Men attendees, including Elisabeth Moss, John Slattery, Vincent Kartheiser and Jared Harris.
• In anticipation of Season 5, the Los Angeles Times reminds readers about what was happening on Mad Men when Season 4 ended.
• Us Weekly features a gallery of January Jones' best red carpet looks, noting she "rarely gets it wrong on the red carpet."
• Jon Hamm is featured in the official trailer for new movie Friends with Kids.
• The Insider talks to David Cross about Jon Hamm's guest-star turn on IFC's The Increasingly Poor Decisions of Todd Margaret. Collider.com loves Hamm's performance, while the Huffington Post has clips of Hamm on the show.
• The New York Times references Joel Murray (Freddy Rumsen) in an article about the film The Artist.
• Broadcasting and Cable has a brief video interview with Matthew Weiner, who talks about the inspirations for the stories on the show.
• TheaterMania has a shot of Christina Hendricks backstage after a Cirque du Soleil performance.
• Tulsa World eagerly awaits Mad Men's return, as does KPBS.
• GossipCenter has pics of January Jones exiting a restaurant on her birthday, gushing that the "Mad Men mommy looked fabulous."
• Alison Brie pops up in the trailer for The Five-Year Engagement, which also stars Jason Segel and Emily Blunt.
• Twitch previews Save the Date, another film starring Alison Brie, which will be screened at this month's Sundance Film Festival.
Read More