Uncategorized
Q&A – Megan and Alexis Stier (Eleanor and Mirabelle Ames)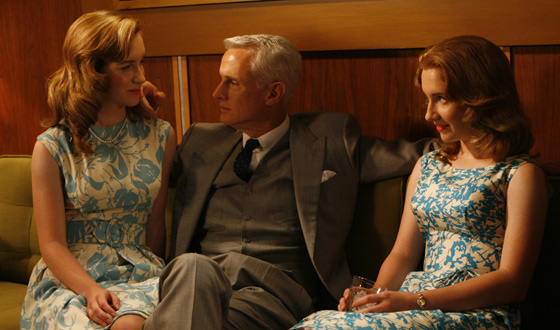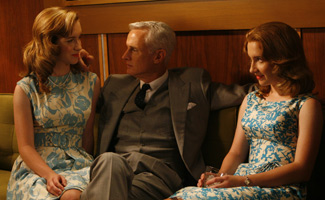 Twin actresses Megan and Alexis Stier, who play Eleanor (left) and Mirabelle Ames (right) on AMC's Mad Men, talk to AMCtv.com about wardrobe malfunctions and crisis management.
Q: How did you end up on Mad Men?
Alexis: We got a call from our manager that they were auditioning for twins — and we had about two hours to prepare. The show hadn't aired yet, so we tried to find out as much information as we could. We knew that it was early '60s…and that it took place in an office. So we threw on some pencil skirts and cardigans and just ran out the door.
Q: Eleanor, played by Megan, comes off as the more serious of the twins in the episode. Was this typecasting?
Megan: It was a fair casting. I think I am more dominant, because I'm a little bit older [by nineteen minutes], so I can come off a little bit more serious and a little bossier. But when we originally read the script, I was reading Mirabelle and Alexis read Eleanor. Then at the last minute, we switched it up for casting.
Q: Don rejects Eleanor because she's "selling too hard." What's a big turn off for you guys?
Megan: Over confidence can be a bit of a turn off — someone who's a little too proud and comes on a little too strong. I prefer someone who's more shy, has some quirkiness.
Alexis: Nothing worse than being overconfident — being pushy and too eager. I tend to back away from that. I want someone who's more honest.
Q: Roger's heart attack comes as a shock. Which of you would be better in a crisis situation?
Alexis: I think Megan, for sure, would be better…
Megan: I'd probably stay a little more level-headed. Get the task done and save the emotions for later…
Alexis: I'd get too nervous…
Megan: I'm more of the planner. Alexis will usually wait for me to give her a task and tell her what to do next…
Alexis: I'm good at receiving direction, then I can just focus on that.
Q: How did Janie Bryant distinguish Eleanor's costume from Mirabelle's?
Alexis: Those ladies are so lovely to work with. You walk in their studio and it's just wall-to-wall —
Megan: — beautiful stuff. We tried on different dresses and I think my dress had a little more structure to it. It was a bit tighter. It was so tight that it ripped on me and we had to stall production for an hour or two. It was definitely more conservative —
Alexis: — cleaner. Straighter lines.
Megan: Right. They dressed Eleanor first…Then Mirabelle's dress was the appropriate coinciding piece.
Q: What was it like being on set with all those other pairs of twins during the casting scene?
Megan: What's really funny is that being twins in this town [Los Angeles], we had known or met all of those girls. So it was like a little reunion. Like "Oh, congrats. You got this [gig]." It was really fun to see everybody in this period piece, all done up. It was a fun day on set — and it was the last day. So it was like going out with a bang. Like having a party!
Click here to read an interview with John Slattery, who plays Roger Sterling on Mad Men.
Read More