Press
Conan Gives Hamm for Christmas; Big Screen Futures for Hendricks, Slattery and Harris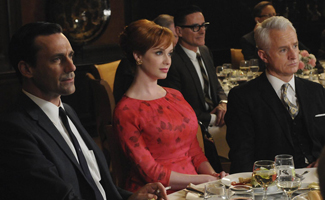 This week, Conan O'Brien gifts Jon Hamm to one of his employees and Christina Hendricks, John Slattery and Jared Harris all have film projects ahead. Read on for more Mad Men news.
• The Los Angeles Times spotlights a Conan sketch where one lucky staffer received Jon Hamm as her Secret Santa gift, courtesy of the boss.
• The Daily Mail reports that Christina Hendricks is in talks for Bomb, a movie set in the '60s. Bleeding Cool says, if you "just can't get enough of Christina Hendricks in 60s fashions, it sounds like your ship is coming in."
• Return, a movie featuring John Slattery, will be screened at next month's Palm Springs International Film Festival, according to The Hollywood Reporter.
• Jared Harris talks to USA Today about juggling the shooting schedules of Mad Men and Steven Spielberg's Lincoln.
• TV Guide [no link] is quite sure that audiences will tune in for Mad Men's Season 5.
• The Edmonton Journal also eagerly anticipates Mad Men "finally returning to TV. All is once again right with the world."
• Daemon's Movies shares some photos of Jon Hamm in Friends with Kids, which will be released in the spring.
• Just Jared spots Sam Page (Greg Harris) out and about doing some pre-Christmas shopping.
• Westside Today reports that Joseph Culp, who plays Archie Whitman, will appear on stage next month in a dark comedy titled Awake in a World That Encourages Sleep.
Read More