Press
The Daily Show Brings Jon Hamm Into Politics; Steven Spielberg Casts Jared Harris in Lincoln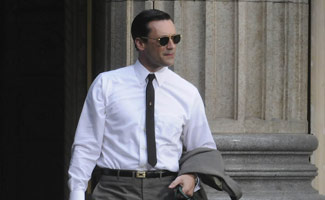 This week, Jon Stewart invokes Jon Hamm's name to play a prank on a political candidate, Englishman Jared Harris lands a role as an American president, and The New York Times suggests Elisabeth Moss might be soon back on Broadway. Read on for more Mad Men news.
• The Daily Show's Jon Stewart pulls a prank by calling on Mad Men fans to submit questions for Jon Hamm to Republican presidential hopeful Jon Huntsman's "Twitter Town Hall."
• Steven Spielberg has cast Jared Harris as Ulysses S. Grant in the film, Lincoln, Variety reports. (No Link.)
• The New York Times speculates that Elisabeth Moss could be up for the lead role in a planned Broadway revival of The Heiress.
• Zap2it has a clip of Jon Hamm from the upcoming season of IFC's The Increasingly Poor Decisions of Todd Margaret making robot noises.
• Movieline is thankful for the Bridesmaids blooper reel because you can see "Jon Hamm raise the bar on sexual humor."
• Janie Bryant tells Vogue the secret to the Mad Men look: "In those days, it was all about longline bras, girdles or garter belts, stockings, and slips."
• Jezebel highlights John Slattery's recent turn on The Simpsons, where he voiced a modern day Mad Men-esque sales guy.
• The New York Post includes the Mad Men Season 4 premiere as a favorite Thanksgiving episode: "It makes your dry turkey seem like less of a catastrophe."
• January Jones writes about the problem of shark overfishing in the Huffington Post: "We should be scared for sharks — not of them."
• toronto.com asks Jon Hamm for a movie recommendation. His suggestions: Who's Afraid of Virginia Woolf? and Working Girl.
• Screen Junkies lauds AMC's shows as better than all other TV combined, calling Mad Men "quite possibly the best show to ever be on television."
• The New Zealand Herald considers Kiernan Shipka a "tweenage style icon."
• Assignment X shares a photo of Shipka on the red carpet at the premiere of The Twilight Saga: Breaking Dawn, Part 1.
• Entertainment Weekly reports that Darren Pettie (Lee Garner, Jr.) will have a recurring role on ABC's Pan Am.
• MusicRadar.com interviews RJD2 (composer of Mad Men's theme song), who says "A Beautiful Mine" was created during "the only time in my life where I could completely let my hair down."
• Miles Fisher (who plays Paul's marijuana-dealing friend) talks to the Huffington Post about how his Mad Men role continues to play a part in auditions.
Read More