Mad Men Celebrates the Holidays All Year Round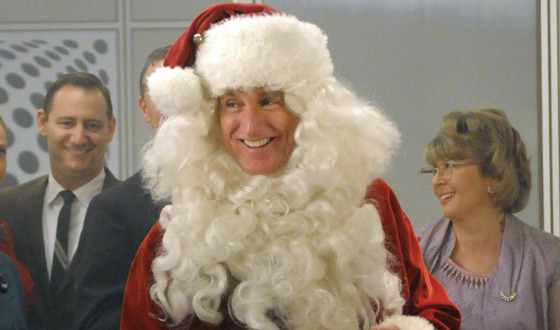 Over the course of four seasons, Mad Men's characters have seen the years fly by and during every one of those years, the characters have been celebrating many of the major holidays — from New Year's Day to Thanksgiving to Christmas. Check out this list of some of the series' more noteworthy holiday experiences.
New Year's Day
Don Draper spends New Year's Day with Lane Pryce in Season 4's "The Good News" by marking the start of 1965 with a Japanese monster movie, a steak dinner, a comedy show and the company of a couple of "lady friends."
Valentine's Day
In the Season 2 premiere, a still-married Don and Betty book a romantic Valentine's Day at the Savoy but end up spending the night viewing Jacqueline Kennedy's White House tour on TV (despite Betty's black lingerie).
Easter
Father Gill asks Peggy's advice for his Palm Sunday sermon in Season 2's "Three Sundays," then gives Peggy an egg "for the little one" at the parish egg hunt on Easter.
Derby Day
Roger and Jane Sterling host a raucous Kentucky Derby Day party in Season 3's "My Old Kentucky Home." Roger dons blackface, the Campbells dance the Charleston, and Don and Betty each meet people who'll prove to be future game-changers.
Mother's Day
Don prepares a Mother's Day breakfast-in-bed for Betty during Season 1's "Babylon,"
but his gesture goes awry when he trips on a toy on the stairs. Even so, Betty proclaims that her special day was "lovely."
Memorial Day
At a Memorial Day event in Season 2's "Maidenform," Don ducks out of a tribute to fellow veterans (including a Rough Rider) at the country club then calls Bobbie Barrett for a tryst instead of sticking around for the sparklers.
Independence Day
In Season 3's "Guy Walks Into an Advertising Agency," PPL's top brass arrives to tour the Sterling Cooper offices and restructure the organization on
Independence Day. That means employees must work over the
holiday. Don comments, "Fourth of July. Subtle."
Labor Day
Roger Sterling's first wife Mona is "gone for the weekend along with every other wife in town" in Season 1's "Long Weekend." He takes this opportunity to flirt with a pair of twins but has his fun interrupted by a heart attack.
Halloween
In Season 3's "The Gypsy and the Hobo," Sally and Bobby Draper trick-or-treat as a gypsy and a hobo. "And who are you supposed to be?" Carlton Hanson asks Don, who ironically has just revealed his true identity to Betty.
Election Day
Sterling Cooper is on Nixon's side and uses Election Day in Season 1's "Nixon vs. Kennedy" as an excuse to empty the storage closet of booze. Alcohol leads to a staged reading of Paul Kinsey's play, the discovery of the color of Allison's underpants, and a forbidden office romance.
Thanksgiving
In the Season 1 finale, Don's alone for Thanksgiving after imagining an emotional reunion with Betty and the kids. In the Season 4 premiere, Don spends the holiday with a call girl while Sally embarrasses Betty at festivities helmed by the mother of new step-dad Henry Francis.
Christmas
Sterling Cooper Draper Pryce bumps up the office Christmas party in Season 4's "Christmas Comes But Once a Year" from "convalescent home to Roman orgy" for Lee Garner Jr.'s benefit. A reluctant Roger ends up decked out as Santa.
Keep track of next year's holidays with the 2012 Mad Men calendar, now available for purchase in the AMC store.
Read More