The Mad Men Holiday Gift Guide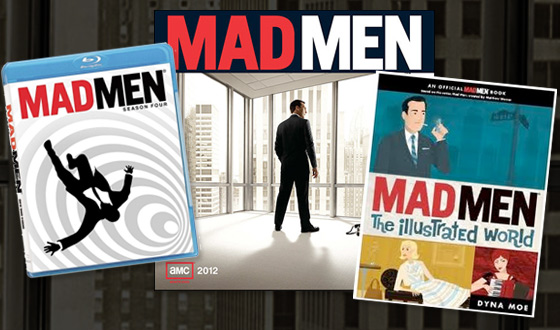 As the year's end fast approaches, AMC can ease your holiday shopping anxiety with gift ideas for Mad Men fans. Whether you're shopping for a fashion junkie or a music buff, there's a gift idea for all types of Maddicts.
For the Busy Maddict: Mad Men 2012 Calendar
You'll never forget a date (or a Mad Men Sunday morning encore) when you've got Don Draper's face to remind you. Manage your daily life with this 16-month calendar featuring your favorite Mad Men characters from Season 4. From Don and Roger to Peggy and Joan — the gang's all there.
For the Mad Men Newbie: Mad Men: Seasons 1-4 DVD Pack
Do you know anyone who has Mad Men on their list of must-watch shows but has yet to actually watch it? Offer them the gift of this complete DVD set. With all four seasons at their fingertips, they'll have no excuses (and love you forever after). Also available in Blu-ray.
For the Obsessive Maddict: Mad Men: Season Four
Gear up for Season 5 by re-watching all of Season 4, then keep going with special DVD features like "Divorce: Circa 1960s" and "How to Succeed in Business Draper Style." Completists will appreciate the audio commentary for all 13 episodes. Also available in Blu-ray.
For the Fashionista: The Fashion File: Advice, Tips, and Inspiration from the Costume Designer of Mad Men
If you're a fan of the clothes in Mad Men (and who isn't?), let Emmy-winning costume designer Janie Bryant show you how it's done. Bryant reveals the ins and outs of dressing Betty, Joan and Peggy, and also offers tips to cultivating your own fashion sense.
For the Home Entertainer: Mad Men: The Illustrated World
A guide to faking your way through a cocktail party? Check. Step-by-step instructions on creating a flawless bouffant, à la Betty during her Rome vacation? Check. Enjoy these tips and more from illustrator Dyna Moe's tongue-in-cheek guide to the '60s.
For the Music Buff: Mad Men: A Musical Companion
Immerse yourself in the music of the Mad Men era with this two-disc CD set featuring legends from Ella Fitzgerald to Chuck Berry. You'll be head-bopping and foot-tapping to these songs in no time.
More for the Music Buff: Mad Men: Music from the Series, Vol. 1
This 13-track CD is a mix of well-known oldies and several songs written by Mad Men's resident composer David Carbonara, all appearing in various episodes through the seasons. One listen is enough to transport you to Madison Avenue circa the 1960s.
For the Epigram-maker: Sterling's Gold: Wit and Wisdom of an Ad Man
If Roger's witty lines are one of your favorite parts of the show, this is the book for you. Every page yields a classic Roger witticism, including hits like, "She died like she lived — surrounded by the people she answered phones for."
Click here to view all items in AMCtv.com's Mad Men store.
Read More