Games, Polls & Quizzes
Mad Men Goes Meta – TV References From the First 3 Seasons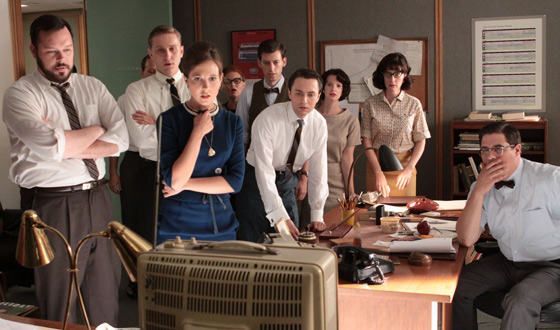 Both the adults and children of Mad Men spend some time in front of the small-screen — watching sitcoms, dramas, game shows and of course, commercials. Check out this list of TV shows seen during the first three seasons of Mad Men. (For a list of TV shows seen in Mad Men Season 4, click here.)
The Danny Thomas Show

Season 1, Episodes 1 and 11; Season 2, Episode 8 and 13
The Drapers watch this sitcom twice, including before Betty kicks Don out. At Sterling Cooper: Roger suggests Menken's advertise during the show; Harry laments when it's pre-empted.
People Are Funny
Season 1, Episode 2

Midge asks Don if he's seen the popular game show hosted by Art Linkletter — then shoves her TV set out the window. Sally and Bobby are watching the program when Don comes home later.
The Twilight Zone
Season 1, Episode 2; Season 2, Episode 10
Paul Kinsey (jokingly) threatens suicide upon hearing the show might be cancelled. Later in the series, Don tells Paul to "indulge your Twilight Zone fantasy of being shot into space."
The Howdy Doody Show
Season 1, Episode 10
Pete asks Don, "Where's Howdy Dowdy at?", referencing Peggy in a comparison to the iconic freckle-faced marionette whose show premiered on-air way back in 1947.
The Defenders
Season 2, Episode 3
A controversial episode of this courtroom drama deals with abortion and prompts sponsors to flee but helps Harry Crane become head of Sterling Cooper's fledgling TV department.
The New Loretta Young Show
Season 2, Episode 11
Sal discusses the TV vehicle for movie star Loretta Young and doesn't hold his distaste back: "It was so awful… The aprons. The nauseating upholstery on the couch. Strangers who drop by."
Davey and Goliath
Season 3, Episode 8
Pete chuckles at an episode of this stop-motion animated kids' series about a boy and his dog — right before his run-in with the young au pair next door.
Perry Mason
Season 3, Episode 9
Harry brags to Paul that his mother-in-law has compared him to fictional lawyer extraordinaire Perry Mason. Paul's response? "It's not a compliment. It means she thinks you're fat."
Remember a show that didn't make this list? Share it in the comments section below.
Read More