Press
Mad Men Actors Take to the Big Screen This Winter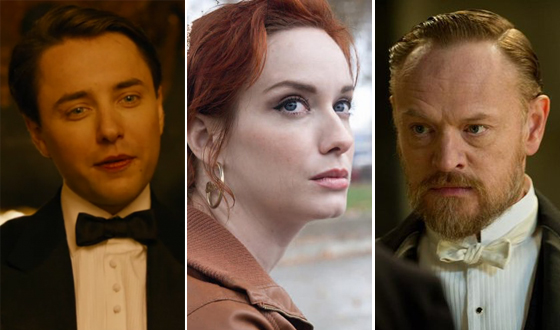 You can't see Mad Men on the big screen but you can see several Mad Men actors starring in movies playing at a theater near you. Below is a list of movies currently in theaters, coming to theaters, and coming out on DVD.
Vincent Kartheiser, In Time
In Theaters: Currently
In this dystopian sci-fi story, everyone dies at 25 — unless they can pay for a longer life. Kartheiser plays a time-hoarding mogul who, despite his youthful appearance, is one of the oldest men alive. That's power a Mad Man could appreciate.
Christina Hendricks, Drive
In Theaters: Currently
In this slick thriller, Hendricks helps a professional getaway driver (Ryan Gosling) pull off a risky robbery. She also has one of the movie's most shocking moments. Despite the dangers job, she maintains her poise. Typecasting?
Joel Murray, The Artist
In Theaters: Currently
Unlike the chatty Freddy Rumsen, Murray doesn't say a word in this silent flick. The story, set in the 1920s, revolves around a silent movie actor whose star wanes with the advent of the talkies. Murray plays a cop who rescues the "artist" in a time of need.
Jared Harris, Sherlock Holmes: A Game of Shadows
In Theaters: Dec. 16
Maddicts know him as SCDP's number-cruncher. Now, Harris flexes his acting skills as criminal mastermind Professor Moriarty, pursued by Sherlock Holmes (Robert Downey Jr.).
January Jones, X-Men: First Class
On DVD: Currently
As beautiful mutant Emma Frost, Jones has serious superpowers: telepathy, and transforming into an indestructible figure made of sparkling diamonds.
Jon Hamm, Bridesmaids
On DVD: Currently
For Maddicts who can't get enough of Hamm without a shirt, Bridesmaids delivers. Hamm plays the good-looking cad who toys with Kristin Wiig's bridesmaid character.
Christina Hendricks, I Don't Know How She Does It
On DVD: Jan. 3
Hendricks plays the dependable best friend of a multi-tasking career woman (Sarah Jessica Parker). She's gorgeous, supportive, diplomatic and super-stylish. Typecast again?
Read More