Interviews
Q&A – Kristoffer Polaha (Carlton Hanson, Francine's Husband)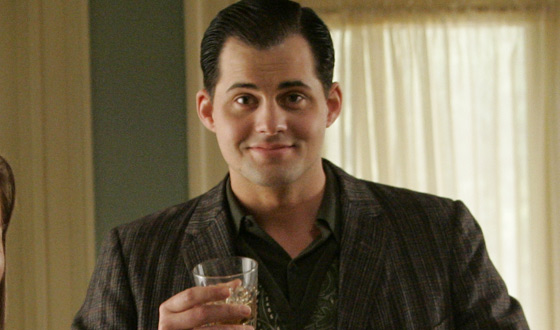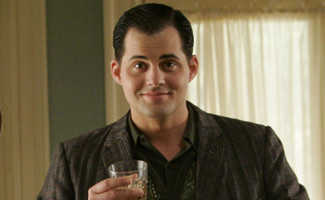 Kristoffer Polaha, who plays neighbor Francine's philandering husband Carlton Hanson on Mad Men, spoke with AMCtv.com about why he didn't get the part of Don Draper and what it's like wearing a fat suit.
Q: How did you first get on the show?
A: My first experience with Mad Men was actually auditioning for Don Draper. I went in to Matthew Weiner in his Santa Monica casting office for a total of six auditions. He was working with me and said, "Man, you're just too young." … And then in that first season they had a party scene for "The Marriage of Figaro," and I went in for Carlton Hanson. And it turned into a role that kept coming back.
Q: We first meet Carlton at Sally's birthday party. With three children of your own, have you ever found yourself at a birthday party quite like that?
A: [Laughs.] Not as uncomfortable, but out here in L.A., you get quite the opposite. Do you know kid's shows? There's one right now, it's got these crazy life-sized puppets, Yo Gabba Gabba! You know how most kid's parties have characters dressed up like the characters? My kids go to parties where the actual characters are invited to the parties — the guy from Yo Gabba was there.
Q: Francine and Carlton sometimes play cards with Don and Betty. Who of you guys is the best player?
A: I have to say that Jon is the best of the card players. … He keeps everything so close to his vest, you never know what hand he's holding. Actually, [we played in an] episode in Season 2 and I had a fat suit and prosthetics on. Matthew Weiner's theory was that I had been caught cheating, so I was in lockdown. My wife had figured it out, so I was miserable and fat.
Q: How long did it take to put on the prosthetics?
A: Two-and-a-half hours. They put prosthetics on and then they color it, so the make-up then becomes the first layer. And on top of that they put makeup and flesh tones and match your whole face together. And then there's the big fat suit — there's a little hole in the crotch if you have to go to the bathroom. And on top of it they tucked me into these clothes that are really high-waisted. I remember the clothes being so snug-fitting because that was the era. So I was like a fat man in a tiny suit.
Q: Is there anything from the set you would love to own?
A: Carlton Hanson was always in green or a yellow, and there was a sweater he wore. I would never be able to rock it because it's so stylized, but it was a beautiful sweater. I did want to take that.
Q: You've played a lot of contemporary characters on TV. Does being on a period show change your approach?
A: There's a calmness and stillness [on Mad Men] that you don't get in most other shows, especially not in contemporary shows. It's so specific that you don't want to change the rhythm of it. You don't want to add "umms." You don't want to make it seem pedestrian. In a weird way, it's kind of like Shakespeare. I did Shakespeare in college and the nerves I got doing Shakespeare are the same nerves I get doing Mad Men. I want to get the dialogue just spot-on.
Q: Do you have to pronounce dialogue a specific way?
A: I would get notes form the script supervisor where it literally came down to how I was pronouncing the word "the" — they wanted me to say "thee." I think it helps create the atmosphere, because it gives weight to everything that the characters say.
Q: Halloween wasn't too long ago. Have you ever gone as a Mad Men character?
A: No I haven't, but I should go as Carlton. I can get that sweater I liked. … I guess it would be most fun to dress up as Don Draper. I get to live out my "almost gig" for one evening.
Click here to read an interview with Anne Dudek, who plays Carlton's wife Francine.
Read More