Uncategorized
Q&A – Steve Stapenhorst (Hunt Schilling From Utz)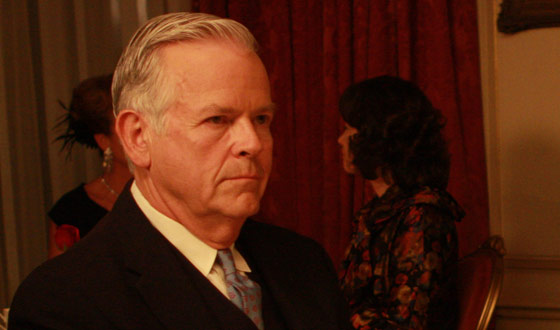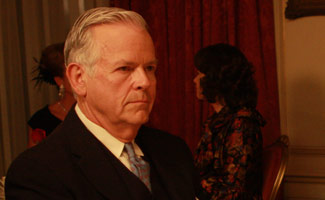 Actor Steve Sapenhorst, who plays Utz chips magnate Hunt Schilling on Mad Men, talks
to AMCtv.com about jamming with Bob Dylan (seriously) and how he got into his character's head.
Q: Mr. and Mrs. Schilling are so excited to meet Jimmy Barrett. Is there a celebrity you wish you could meet?
A: I've worked with so many wonderful people. I met Steve Martin as a young performer. He'd be interesting to meet nowadays. I jammed once with Bob Dylan. He'd be interesting to know. Paul McCartney would be a guy to talk to. Surviving Beatles are just a wonderful, rare species. [Laughs]
Q: How is it you jammed with Bob Dylan?
A: I played in a group that formed at the Troubadour in West Hollywood in the '60s called The Men. We were eleven guys starting to put a little rock and roll in with the big folk group. One night Dylan came in, sat quietly in the balcony, watched our show and when the doors were closed he came down and we all sat around and played. I was 18 years old. Half of the group that I was in formed The Association and they had a lot of hit records. I was not in that half. [Laughs]
Q: Have you ever done any commercials and been the one in Jimmy's shoes?
A: I did a lot of commercials in New York in the '80s but I was always the straight spokesperson. I did a series for Clorox detergent and I did some great ones for Dodge. I don't think I ever had an excited boss walk around the set but I don't have a caustic sense of humor so…
Q: About that, when the Schillings show up to meet him things go south…
A: Very quickly, yes.
Q: What would you do if someone was talking to your wife like that?
A: I think you have to put yourself in Hunt's place. Utz is a real food company. I found out that they started the company in the '20s and made the chips in their kitchen. Just knowing that it was family run (and is still family run) and that the original founders were still running the company in the '60s was helpful. It was the homespun quality that I thought was important. They seemed so green. If I personally was in the situation I would know that's your shtick. Hunt had to have missed the fact that that's really what he did. Or he just assumed that off camera nobody could do that. They walked in just to see a star not realizing he'd turn his lazar whip on them.
Q: What did you think of Jimmy's apology?
A: I don't think that apology was enough and I don't think it was really enough for Hunt Schilling. But he decided, in the name of progress, to go on. I think it was easier for him and for her to just get out of it as quickly as possible.
Q: And Mrs. Schilling's comment that she didn't have the stomach for Jimmy's humor?
A: [Laughs] I thought it was it was another indication of how Jimmy was really that character. He couldn't pretend he missed that. He had to make a show of putting his hand in his mouth to not laugh. It was really an outrageous moment. I think realizing Jimmy was not going to be anything else was helpful. If you contrast him with someone like Don Rickles — his persona was all about insults but about every three lines he'd go, "Ah, you know I don't really mean it. I love this guy," and you ended up having the feeling that he really wasn't a caustic personality. That was just his act. With Jimmy Barrett, I don't know if you end up seeing that side.
Q: Did you see him get punched by Don in the episode "Six Month Leave" and what was your reaction?
A: [Laughs] Well deserved.
Q: Did being on the set of Mad Men bring back any memories from your youth?
A: I grew up in Southern California and was in high school in early '60s and starting to be a folk singer. So I was kind of on the other end: More likely to be singing protest songs than to identify with Madison Avenue. The time rings a lot of bells but the world of New York and smoking and drinking your way though the day's work would have been totally foreign to me. Same time but different reality.
Click here to read an interview with Jan Hoag, who plays Steve Stapenhorst's on-screen wife Edith Schilling on Mad Men.
Read More