Press
Mad Men Takes Over Halloween; Kiernan Shipka Stars in Funny or Die Video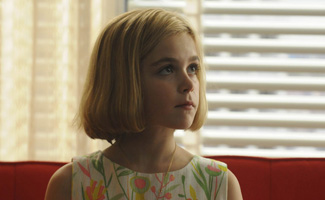 Mad Men costumes are among the most popular for Halloween this year. Read on to see how to craft your look, then click to see what the media has been saying about Kiernan Shipka's latest side projects.
• With Halloween around the corner, Examiner.com, BuzzSugar.com, Arizona Foothills and ZingZone offer suggestions on how to dress like Mad Men characters.
• Kiernan Shipka stars as a child psychiatrist in a comedy skit for Funny or Die, and her performance is garnering positive reviews from MSNBC, the Hollywood Reporter, the Atlantic and AdWeek.com.
• The Hollywood Reporter catches up with Elisabeth Moss at a fashion show to talk about her personal style. "I'm a big jewelry person," she says.
• Shipka has also been blogging about fashion for Lucky magazine, sharing her love for brands like Paul & Joe, Marc Jacobs and Chanel. The Telegraph and TheInsider.com praise her precocious writing.
• The Epoch Times speaks to John Slattery at Project Save Our Turf, where he rode a surfboard in the name of promoting cleaner oceans and water.
• Janie Bryant tells TheFashionExaminer.com how to incorporate Mad Men's 1960s style into a contemporary wardrobe. "A classic shirtwaist dress or sheath dress are great silhouettes."
• Robert Manni, author of The Guys' Guy's Guide to Love, suggests to the Daily Mail that men follow Don Draper and take an old-fashioned approach to dating by embracing their masculinity.
Read More