Press
E! Online Has Photo of January Jones's Baby; Matthew Weiner on Hollywood Reporter's Top 50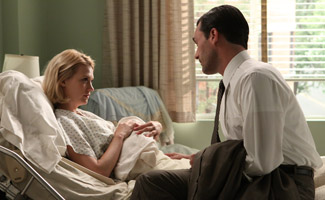 This week in Mad Men news, candid shots of January Jones out with her newborn are hitting the web and series creator Matthew Weiner receives top honors for his work as Mad Men's show runner. Read on for more.
• E! Online has a picture of January Jones holding her new baby boy, Xander.
• The Hollywood Reporter puts Matthew Weiner on its list of the top 50 show runners of 2011. Weiner says his own life story is "sort of the story of Don Draper."
• Nerve.com pits Breaking Bad against Mad Men in a seven-category battle royal. You guessed it, Mad Men wins!
• At StyleBistro.com, Mad Men makeup artist Lana Horochowski talks about how she creates her characters' flawless looks.
• The Washington Post reports that actor Cheyenne Jackson will sing Mad Men-era songs for one night only at Carnegie Hall in November.
• Broadcasting & Cable and the New York Times report that Netflix will stream the previous two seasons of AMC's The Walking Dead alongside the first four seasons of Mad Men.
• Variety's "future TV titans" include Ben Davis, AMC's VP of Scripted Programing, who was a "key member" of the team that developed Mad Men.
• The Hollywood Reporter reports that the Center for Communication says, "AMC Networks airs some of 
the most critically acclaimed series on television, including Mad Men."
• Emmy Magazine recaps Jane Lynch's opening routine at this year's ceremony, during which she visits the world of Mad Men.
• The Washington Post's Click Track blog — impatient for the next season to start — links to an old YouTube interview with RJD2, creator of Mad Men's theme music.
• An op-ed for the Los Angeles Times proposes that the popularity of Mad Men stems from a "longing for authority."
• The Johns Hopkins News-Letter suggests that Mad Men's dominance is not due to "sexual glorification" but carefully calibrated female characters' "personality and purpose."
Read More