Uncategorized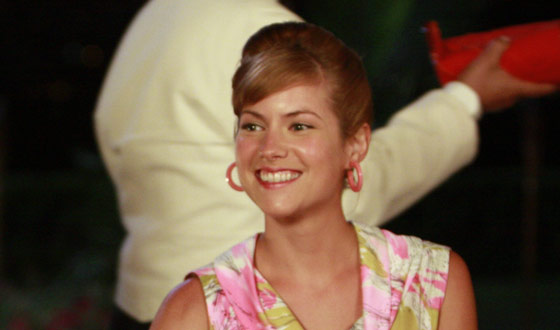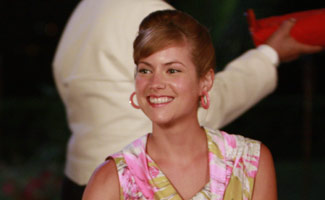 Laura Ramsey, who plays Don Draper's Season 2, Episode 11 fling in Mad Men, reminisces about her start in show business and the thrill of picking up Don in a convertible.
Q: The reality show The Real Cancun is worlds apart from Mad Men. How did you get from one to the other?
A: My life is also worlds apart from when I was an 18-year-old girl from a small town of 800. I suppose the transition in my personal life echoes my growth in my career.
Q: Many fans have commented that "The Jet Set" has a unique vibe to it. What do you think makes this particular episode special?
A: "The Jet Set" seems to be the only episode that really captures that "gypset" lifestyle that was really kicking off at the time. It's about a spirit that mixed the jet set with the infancy of sex, drugs and rock and roll.
Q: How did you prepare for the role? What did you know about Joy before shooting?
A: Without getting into my personal routine before I shoot, the minute I saw the wardrobe I was transformed immediately. The energy and direction just made it all happen so naturally once we got into it. The team did such an amazing job of setting a feeling on set. It all made sense and was absolutely perfect.
Q: Joy is a very free spirit. Do share any of her characteristics? Have you ever dreamed of living the "jet set" life?
A: Honestly, parts of my life are not that far off. It's very familiar to me. Life is pretty good sometimes.
Q: That dinner looked pretty extravagant. Did you get to eat any of the props?
A: I didn't eat very much as I was in character, in that Joy would have been more focused on the drink and smoke.
Q: What's the most interesting dinner party you've ever been to?
A: There are too many to pick from. We have such an eclectic group of friends that it's never boring.
Q: "The Jet Set" episode is very "New York" vs. "L.A." Which side do you come down on?
A: You think so? I didn't get that from the episode. I personally don't even try to compare New York and L.A. To me, they are just way too different.
Q: Was it fun to drive that convertible?
A: I almost drove off with that car. So beautiful. I would have to say that was my favorite moment of all.
Click here to read an interview with Jon Hamm, who plays Don Draper.
Read More