Uncategorized
Q&A – Jan Hoag (Edith Schilling)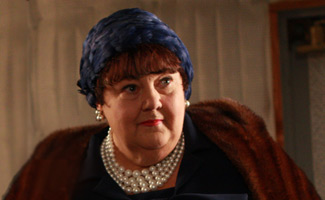 Actress Jan Hoag, who plays Edith Schilling, wife of Utz chips magnate Hunt Schilling, on Mad Men, talks to AMCtv.com about the challenges of wearing period-perfect clothing and how she really feels about Patrick Fischler (Jimmy Barrett).
Q: The episode you were featured on (Season 2, Episode 3, "The Benefactor") was particularly memorable…
A: Oh, it's such a great episode! A lot of people had seen that episode and that character, and she really resonated. This is a great story: Three different fans sent me Utz potato chips after the show. I kept getting these packages and a friend here that lives in town got them for me too.
Q: Your role in that episode is particularly poignant in relationship to the rude comedian Jimmy Barrett.
A: I just loved Patrick Fischler [who plays Jimmy Barrett]! The first time I saw him on set, he came up to me and he goes, "I am so sorry that I have to say these things to you!" And I said, "Not only that Patrick, but you're going to have to say them to me over and over and over again!" [Laughs] And we still laugh about that day where he was so mean to me.
Q: Have you ever heckled a comedian?
A: Oh God, no! It's way too hard up there for that. And as a performer, I would never heckle another performer. It's people that aren't in the business that heckle, you know?
Q: How did you envision Edith Schilling's background?
A: A choice that I made for myself for that character was that…my mother was very cordial and demure but underneath she was really strong and intuitive, and I thought this was kind of how she would handle the situation.
Q: How would you have handled that situation?
A: Jimmy Barrett probably wouldn't have gotten out alive if I was acting like myself in real life! I did ask Matthew Weiner, "Aren't you going to let Edith Schilling come back and have her revenge?"
Q: They have to do that episode!
A: I know. Edith's going to come back and kick some ass!
Q: Before acting, I understand that you were a buyer in the fashion industry. It's hard to think of a more ideal show for someone interested in clothing.
A: Being in that costume department was like Nirvana for me. Janie Bryant would literally have to rip me away from the lines of clothing when I was with her. I was even looking through her fashion books from the era. These are the same things my mother had in her wardrobe when I was growing up, and I was constantly stealing her jewelry, even as a young person. I just loved these fashions. The only thing I didn't like? The undergarments! The undergarments were true to the period.
Q: I imagine they help you stay focused as your character?
A: Oh yeah, they made you sit up straight, that's for sure… They're very painful. I mean you get used to it. And you don't really feel it when you're shooting because your mind is in a totally different place.
Q: You were on Malcolm in the Middle twice as two different characters. Have you followed Bryan Cranston to Breaking Bad now?
A: Neither of my [Malcolm in the Middle] scenes were with him, but I met him in the trailer. I actually auditioned for Breaking Bad. The character I went out for on the show was a caretaker in a rest home. But on that show, I'm sure that any myriad of characters would fit what I do… If anything else comes up I'm game!
Click here to read an interview with Patrick Fischler, who plays comedian Jimmy Barrett on Mad Men.
Read More