What You're Saying About the Mad Men Summer Reading List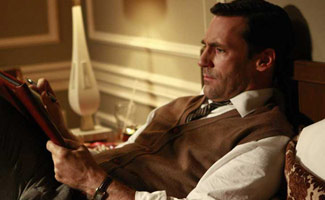 Maddicts jumped at the chance to read like a character from the series with a little help from AMCtv.com's summer reading list of books referenced over the course of four Mad Men seasons. Look below to see which novels fans suggested adding as extra credit and which book on the original list they'd open up first.
• "I would add John Cheever's Bullet Park. When Don signs his contract, his address is Bullet Park. It's a great book on suburban life during that period. " — Texasland
• "I remember most of these books on my parents' bookshelves except Lady Chatterly's Lover, but we found its hiding place, anyway." — Kathy Hayes Bailey
• "So many great books to read, but I think my first choice from the list would have to be the Nancy Drew 'Clue of the Black Keys'." — zerelda
Log onto the Mad Men Talk forum to join a conversation or start a topic of your own. As always, your comments throughout the blog are welcome.
Read More