Press
Mad Men Sets Emmy Record; Weiner Tells L.A. Times January Jones Will Be a 'Modern Mommy'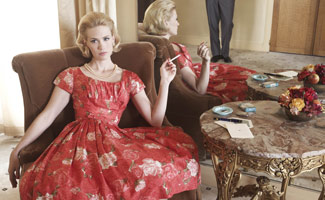 Mad Men Season 4 wins the Emmy for Best Drama thereby setting a cable-network record. As to Season 5, Matthew Weiner says he wants to make motherhood work for January Jones (off-camera at least). Read on for more Mad Men news.
• The Hollywood Reporter, DeadlineHollywood.com, Variety, and the New York Times report on Mad Men's fourth Emmy win for best drama and series creator Matthew Weiner's reaction: "You know me. I am never speechless, but tonight I was speechless."
• Check out photos on Hypable.com of the Mad Men cast at the Emmys.
• The Los Angeles Times quotes Matthew Weiner on how he'll deal with January Jones's new baby while shooting Season 5. Weiner says, "We'll find a way for her to be the most modern mommy in the world while playing one of the most primitive on TV."
• NPR interviews Randee Heller (Miss Blankenship) about her own time on Madison Avenue in the sixties, where, she concedes, "Women were second-class citizens."
• Access Hollywood asks Christina Hendricks if she's ready to have a kid: "We enjoy other people's kids very much."
• When asked by New York Magazine about other shows "stealing" from Mad Men, Matthew Weiner says, "I don't own the period. I see the whole experience as a vindication."
• The Boston Herald says the series The Playboy Club "imitates Mad Men — minus the nuance."
• TheDailyTitan.com says the success of Mad Men has led to a "swingin' '60s revival in modern TV shows."
• The Independent looks at the "stylish 1960s dramas with Mad Men overtones" that dominate the TV season.
• ScreeningRoom.com asks of the new TV season, "Can [the] success of Mad Men be duplicated?"
• Variety reports the episodes in Mad Men Season 5 will run a full 47 minutes.
• In the San Jose Mercury News, Richard Cohen contrasts Mad Men-era prosperity with our current economy: "There were simply no limits [then]. Now there are."
Read More