Press
Emmy Wins Predicted for Mad Men and Slattery; Hendricks Talks Style With People Mag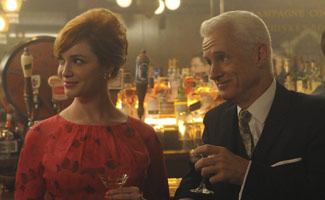 This week's Mad Men news? Emmy coverage convtinues with votes of confidence for John Slattery and Christina Hendricks; Hendricks also discusses the outfit she'll be wearing to the big event. Read on for more.
• In the Emmy race for Outstanding Actor in a Drama, TVFanatic.com says, the edge "has to go to the Mad Men star" John Slattery.
• TVFanatic.com also predicts that Mad Men will win its fourth straight Outstanding Drama Series Emmy and that Supporting Actress nominee Christina Hendricks "submitted a wonderful showcase in 'The Summer Man.'"
• Christina Hendricks reveals to People Weekly that her dress at the Emmys will evoke "Old Hollywood glamour." [No link.]
• Series creator Matthew Weiner claims he's "been mostly Peggy in [his] career" in an interview with Daily Beast.
• The New York Times offers recommendations to fans awaiting Season 5 of Mad Men, including the novel The Man in the Gray Flannel Suit and the movie The Sweet Smell of Success.
• Ad Age interviews Janie Bryant, who reveals that in the episode "Shoot," "Betty Draper alone had fourteen different costume changes."
• People Weekly provides a recipe for a Don Draper Red Eye: Glass of beer, 1 oz. vodka (optional), Tomato juice. [No link.]
• The Hollywood Reporter notes that Mad Men has received a Hollywood Post Alliance nomination in the category of Outstanding Color Grading, Television.
• CNN International continues coverage of Fall TV airwaves, which they say will be filled with Mad Men "copycats," such as Pan Am and The Playboy Club.
• NYULocal.com also notes that "Mad Men is everywhere" in the TV lineup, citing Fox's Pan Am and NBC's Playboy Club.
• Bloomberg.com cites Mad Men in an article about smoking on screen, saying it's "an important part of movie mythology."
• The Kansas City Star quotes AMC president Charlie Collier on the success of Mad Men and AMC's other originals: "We're above the timberline now. Things we're doing are getting noticed."
• GoodMenProject.com references Mad Men in a story about the rise of domineering masculine characters on television.
• The Arizona Republic picks its favorite pieces from the Banana Republic collaboration to help readers "channel Betty, Peggy, and Joan." [no link]
Read More