Press
Sundance Brings Mad Men to Europe and Asia; L.A. Times Says Series Could Set Emmy Record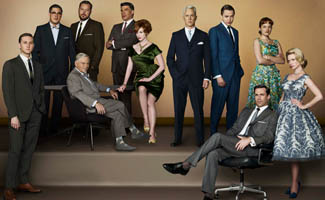 Thanks to the Sundance Channel, Singapore, France, Spain and South Korea will soon get to experience Mad Men. In other news, the L.A. Times imagines what would happen if Mad Men wins this year's Emmy for Best Drama. Read on for more Mad Men coverage.
• Mad Men hits the airwaves in both Europe and Asia via the Sundance Channel this Fall, as reported by C21Media.net, OnscreenAsia.com and WorldScreen.com.
• The L.A. Times recognizes Mad Men's chance to tie the record, set by Hill Street Blues, L.A. Law and The West Wing, of winning four Best Drama Series Emmys.
• FOX News reports that '60s-era, Mad Men-inspired drinks are making a comeback among younger crowds.
• The Belfast Telegraph highlights the high demand for retro "Mad Men-esque" home furnishings in upcoming collections.
• A Reuters article claims Mad Men's "highly successful exercise in flesh-friendly…nostalgia" helped pave the path for shows such as Pan Am and The Playboy Club.
• The Washington Post covers efforts by three students from Atlanta's Creative Circus advertising school to get Mad Men's "Don Draper" to speak at their graduation ceremony.
Read More