Press
January Jones Has Baby Boy; Jon Hamm Talks About Friends With Children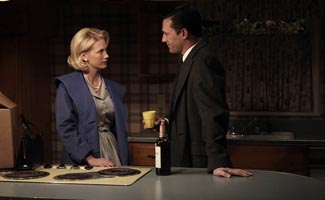 The big news last week was January Jones had a baby boy, on Sep. 13. Read on to find out what she named him, and also to hear what Jon Hamm has to say about starring in a movie that his girlfriend directed.
• People magazine reports that January Jones gave birth to a baby boy and named him Xander Dane Jones. Also covering the story was the Washington Post, the Los Angeles Times, MTV.com, E! Online and USA Today.
• HitFix.com sat down with Jon Hamm, who talked about his experience as a producer of Friends With Children ("we were incredibly lucky to get the cast we got") and whether he'd like to direct a movie himself.
• The International Business Times talks with Randee Heller about her Emmy-nominated role as Miss Blankenship: "I had no idea she was going to die."
• In Rolling Stone (no link), Alison Brie compares Trudy Campbell to her character on Community. "Trudy is behind the wheel, while Annie's out of control," she says.
• The Daily Express quotes Christina Hendricks on her fondness for the range life: "I love being outdoors. You'd never think it in my high heels and pencil skirt, but I miss the smell of the hay and farms and I like milking a cow."
• The Seattle Post Intelligencer tracks the fall season's "Mad Men trend."
• Broadcasting & Cable (no link) says one of the questions TV executives will want answered this fall — when many Man Men-style shows premiere — is whether retro will be back in fashion. Also commenting on the fall's retro lineup is Advertising Age.
• Due to January Jones' pregnancy, Gather.com wonders if Season 5 will see Betty pregnant — "or will they have some conveniently placed objects?"
• The International Business Times ran photos of Christina Hendricks with the question, "Will she be the next Wonder Woman?"
• The Kansas City Star ran a photo of the Emmys seating cards for Jon Hamm and Christina Hendricks.
• Variety reports that Mad Men episode "Christmas Comes But Once a Year" won a Creative Arts Emmy for Outstanding Hairstyling for a Single-Camera Series.
• The Financial Times speculates what writers, agents and producers are looking for "in their pursuit of the next Mad Men."
• Complex.com ran images of posters that the design firm Radio created for Season 5.
Read More