Uncategorized
Meet the Grand Prize Winner of the Banana Republic Mad Men Casting Call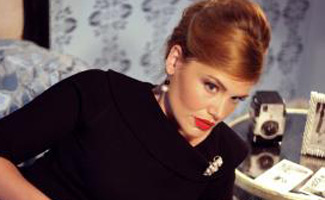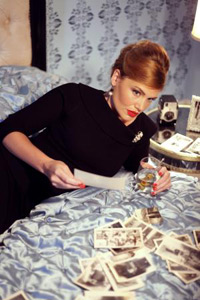 Michigan native Amy Doll knows how to pose. She also knows how to create a scene. And because of those talents, she's the winner of this year's Banana Republic's Mad Men Casting Call, a competition which thousands entered. AMCtv.com talked to Doll in honor of her big win — a walk-on role! — and got the lowdown on what exactly was in those photos spread out on the bed.
Q: Is this your first time entering the contest?
A: I was going to enter last year but when I saw the number of votes people had I was like, "Oh my word, there's no way I can compete with this." So I heard about it again and brainstormed and was like, "I'm doing it this time." It took a little bit of planning. I really wanted to set up a scene and not just take a picture.
Q: How did you get the image you wanted?
A: It was an all day affair between hair and make-up, setting up the room and the lighting. My sister took the photo. That shot was the one we kept coming back to. And by the way, I don't have red hair. I have dark blonde hair. But she used a warm light so it made my hair look red.
Q: Is that something you were going for?
A: I didn't know it was going to look like that but I was pretty pleased with the way the it came out. We used old lights from that time actually. My grandpa had them in his basement. He did photography as a hobby and my sister took the lights and we've had them for years. One day we're like, "Do these things really work?" But yeah, it's the old lighting. It gives a different feel to the whole picture.
Q: Are you on a set or in a studio?
A: No. It's my cousin's bedroom. [Laughs] I was at her house and all of a sudden I look into the bedroom and I'm like, "Oh my gosh. This is perfect."
Q: What are those photos you're looking at on the bed? Do they have any special meaning?
A: They were photos of my grandparents who are both deceased. I thought about how much I miss them and how they would be proud of me. I was thinking about family. I was in a car accident when I was five and I lost my brother and sister and I lived. That's one of the things that propels me for my success. I feel like their lives were too short so whatever they were supposed to do I want to do. That sounds like a big burden to carry but I don't look at it like that. I look at it as an opportunity.
Q: Do you share your grandfather's interest in photography?
A: Life as I knew it changed drastically for me in October of 2009. I went to Africa and spent six months volunteering and [taking photographs]. I love basically anything creative. I've always had an interest in the arts, especially acting, since I was young but I never really pursued it. That changed things. When I came back to the states I got rid of my car, I had already gotten rid of my apartment, I sold my furniture and gave away most of my clothes. I really was pursuing a life of simplicity. I just wanted to use my gifts and talents.
Q: Is there a particular character from Mad Men that inspires you?
A: I relate to Betty in some ways: Her vulnerability and her innocence. She knows that maybe something isn't quite right but the culture of that time is telling her everything different. I find a lot of irony in it. I have this idea of how things should be — I don't think there should be world hunger but I go to Africa and there is. You think there should be this perfect world. It doesn't exist and I know it doesn't exist but I'm living as if it does.
Q: What are you going to do to celebrate your win?
A: Maybe go have a dirty martini. [Laughs]
Click here to see last year's winners.
Read More