Attention, Bookworms! Here's Your Mad Men-Inspired Summer Reading List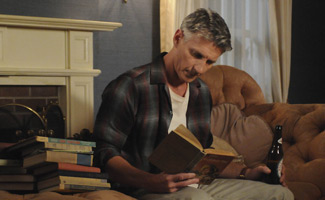 Betty reading The Group in the bathtub. Don Draper with a copy of Exodus in bed. Henry Francis with a whole stack of books near the fireplace. Literature always gets its due in Mad Men. But how many of the books cited in the series have you actually read? Check out this show-related summer reading list drawn from all four seasons of Mad Men.
Season 1
• Atlas Shrugged by Ayn Rand
• The Best of Everything by Rona Jaffe
• Exodus by Leon Uris
• Lady Chatterley's Lover by D. H. Lawrence
Season 2
• The Agony and the Ecstasy by Irving Stone
• Meditations in an Emergency by Frank O'Hara
• Moby Dick by Herman Melville
• Ship of Fools by Katherine Anne Porter
• The Sound and the Fury by William Faulkner
Season 3
• Confessions of an Advertising Man by David Ogilvy
• The Group by Mary McCarthy
• The History of the Decline and Fall of the Roman Empire by Edward Gibbon
Season 4
• The Chrysanthemum and the Sword by Ruth Benedict
• The Clue of the Black Keys by Carolyn Keene
• The Spy Who Came in From the Cold by John le Carré
Bonus Reading
• Mad Men: The Illustrated World by Dyna Moe
• Sterling's Gold: Wit and Wisdom of an Ad Man by Roger Sterling
• The Fashion File by Janie Bryant
All bonus reading titles are available for purchase in the Mad Men store online.
Can you think of a book shown or mentioned on Mad Men that didn't make it onto this list? Add it in the comments section below.
Read More