Press
Mad Men Emmy Buzz Builds in Hollywood Reporter, Variety and Deadline Hollywood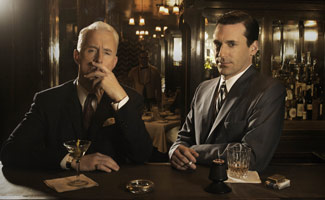 This week, several major publications amp up their Emmy coverage, singling out Jon Hamm, John Slattery and Christina Hendricks, in addition to the show, as major contenders. Check out the mentions below for links on all newsy things Mad Men.
• Both Jon Hamm and John Slattery are included in The Hollywood Reporter's list of "The Magnificent Seven" of 2011 Emmy nominees.
• Variety says Christina Hendricks could win the Supporting Actress Emmy this year due to her ability to provide "an insightful look at what it's like to be boys' mother hen and fantasy sex kitten — all at once."
• In analysis of this year's Outstanding Writing Emmy nominees, Variety claims the only thing going against Mad Men's "Blowing Smoke" and "The Suitcase" is that they're competing with each other.
• Variety also takes a look at why John Slattery might take home the Supporting Actor Emmy: "Slattery has been a vital cog in the Mad Men machine."
• Deadline Hollywood interviews 2011 Emmy-nominated costume designer Janie Bryant and hair department head Lucia Mace about how they chose which episodes to submit for Emmy consideration.
• Bryant is also in the news talking about her Mad Men Banana Republic collaboration: TIME Magazine, The Hollywood Reporter, The Seattle Times and
Detroit News.
• The Miami Herald and Nola.com discuss the new BBC America series, The Hour, and its similarities to Mad Men, conceding that "Mad Men has done [the 1960s] most famously."
• Indiewire.com reports that Rosemarie DeWitt (Midge) is in talks to star in a new comedy, Neighborhood Watch, with Ben Stiller and Vince Vaughn.
• The San Francisco Chronicle gives detailed instructions on how to experience Mad Men NYC-style.
• The New York Daily News weighs in on the events leading up to Kurt Sutter's exit from Twitter and calls Mad Men "one of the shows that makes TV worth watching."
Read More