Press
Emmy Buzz Grows for Jon Hamm and Elisabeth Moss; Hamm Profiled by L.A. Times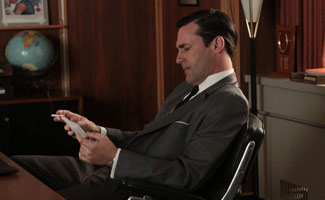 Jon Hamm is in the spotlight this week with an in-depth Los Angeles Times profile. Also in Mad Men news are some optimistic Emmy predictions and an early opportunity to shop from the Banana Republic Mad Men Collection.
• The Los Angeles Times profiles Jon Hamm and asks him about Don Draper's evolution and the "Valley Girl routine" that he and Elisabeth Moss practiced behind the scenes.
• The Los Angeles Times (no link) also predicts that Jon Hamm or Elisabeth Moss might finally earn Mad Men its first acting Emmy, thanks to their work in "The Suitcase."
• The Houston Chronicle interviews Janie Bryant about the Mad Men-inspired Banana Republic line she helped create which debuts in stores on Aug. 11.
• GLAAD awarded Mad Men a high score on its "network responsibility index," which measures the quality and quantity of images of LGBT characters in television.
• The Times-Picayune notes the influence Mad Men has had on other 1960s-set TV shows such as The Playboy Club and Pan Am, and actor Joel McHale calls The Playboy Club "Mad Men with boobs."
• Want to shop the Banana Republic Mad Men-inspired collection first? Like them now for access to an exclusive Aug. 10 Facebook presale.
Read More