Uncategorized
Q&A – Nina Rausch (Gudrun)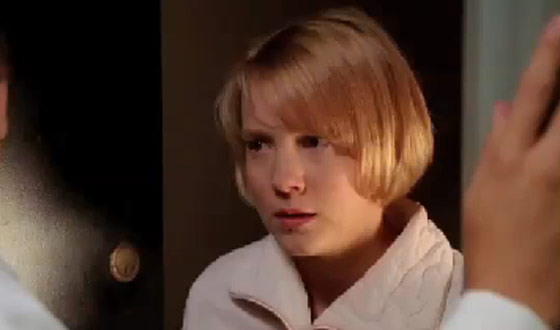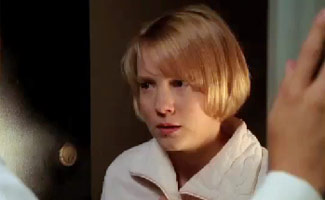 Nina Rausch, the actress who plays Gudrun, the German au pair for Pete Campbell's neighbors in Mad Men Season 3, Episode 8, talks about pranking Vincent Kartheiser and how sometimes she isn't German enough despite being German.
Q: You sound nothing like Gudrun.
A: [Laughs.] Yes, I do sound a little more American.
Q: So was your Gudrun accent entirely manufactured?
A: It was actually funny, because when I went in for my audition, I originally did my own [natural] German accent and that didn't come across as thick enough. I had just had an offer for a pilot [for a different show] and then they said I wasn't German enough. I was like what? How could I not be German enough? I'm German! So when Matt Weiner said, "Can you make it a little more German," I was like, "I'm gonna give it my all."
Q: All of your screen time is with Vincent Kartheiser. What did you talk about when you weren't filming?
A: We talked about work, what we've done before. We talked about some of the theater that I did. I actually ended up giving Vincent a ride home that night because he doesn't have a car. He's very eco-friendly and he lives really close to me.
Q: Did you get to meet any of the other series regulars?
A: At the table read, I think I was able to meet almost all of them except for Elisabeth Moss. … I had the lucky chance to share one of those trailers with Jon Hamm. He was sitting on the stairs… and was like, "How is everything? Is Vincent treating you all right?" Actually, I got to be part of a little prank. You know the scene where I open the door and Pete comes back with the dress? We did a take where Jon Hamm came over and instead of me opening the door, Jon Hamm opened the door, and he said something like, "Stay away from her." And Vincent's face was priceless because he had no idea what was happening.
Q: Was there anyone on the show you had been dying to meet?
A: I would've loved to meet Elisabeth Moss. I just love her character. But definitely Matthew Weiner was a big moment. When I walked in and he said, "Thank you so much, so glad it worked out," I was like, "Are you kidding me? This is amazing to be part of your entire world!"
Q: What was the makeup prep like for your crying scene?
A: I had very minimal makeup. At first when I got the role, I knew it was gonna be a German au pair but I was still like, "Oh great! Big hair and beautiful makeup!" And then I went into makeup and they're like, we want you really simple, barely any makeup. I was like, "Aww." But I did have a fun costume fitting, so that was great. … It was like playing dress-up for two hours.
Q: The dress that Gudrun has stained looked beautiful. Did you get to wear it?
A: No, I didn't get to wear that. It was a beautiful Bonwit Teller dress.
Q: Did you draw on your own experience as a foreign exchange student to play Gudrun?
A: I definitely related to that whole moment of living with somebody and being in someone else's territory. And at the time when we were shooting, I was just going through the process of getting my green card, so it was personally very emotional at that moment. I knew very well firsthand that feeling of am I gonna stay? Leave? You kind of walk on eggshells.
Q: How has your appearance on Mad Men affected your acting career?
A: It definitely has opened many doors for me. I go into casting directors' offices and the first thing they ask is how was it working on Mad Men. People really want to know what it's like being on the set. Definitely, I still feed from it now in my career.
Q: Do you ever get recognized as Gudrun?
A: I have been recognized. In the restaurant that I worked at, I was serving a couple. By the third time I came over, the girlfriend was like, "Ask her, ask her." And she's like, "He wants to ask you something." And he asked, "Were you on Mad Men?" "Yes, I was." And he's like, "I knew it! You were the German au pair!" It's great that it was such a recognizable part of the show.
Click here for an interview with Vincent Kartheiser, who plays Pete Campbell.
Read More