Uncategorized
Q&A – Megan Henning (Judy Hofstadt)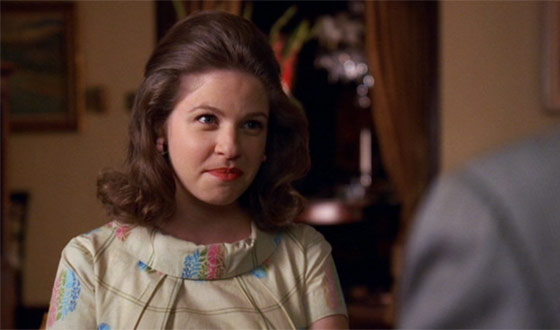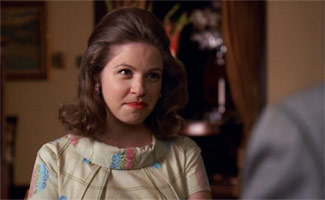 Megan Henning, who plays Judy Hofstadt, Betty's sister-in-law on Mad Men, gives AMCtv.com readers some tips about weathering family conflicts then explains what a jardiniere is.
Q: Your character and Betty don't always see eye to eye. In your own life, what helps you get along with in-laws?
A: I think accepting and embracing people for exactly what they are is probably the best method of getting along with anyone. Don't expect more and don't expect less. Appreciate them for what they have to offer and work with it.
Q: How did your parents react to your being on the show?
A: I think they are, truthfully, always really appreciative when I'm playing a nice person who is being nice to a parent figure. [Laughs] I think that just warms their heart. I've been a part of a lot of television families that would be considered difficult or controversial. One time I played a chick that was part of a gypsy family and when she wanted to join she wasn't allowed to see her parents and siblings again.
Q: Do you think Judy would have more of a say in Gene's living situation if this story took place today?
Q: She's probably a less outspoken, more in the background type of women in general, but yes. In that time period there are certain kinds of behavior that are expected. She's actually been doing the caretaking of him so in today's world it would definitely be a legitimate argument for her to seek being heard. She is coming from a genuine place with a lot of work behind it. My mom was very close to my dad's side of the family and when my grandmother passed away it was a weird time because she had a tremendous amount of feelings about it (and this is just recently) but was only partially invited to participate. In some ways it's quite right that the actual children get to make those decisions, but there are other people that have have put a lot into it and want to see it through. So it's complicated.
Q: Is there anything you wish you could have taken from Gene's house?
A: There were some killer ashtrays. The women's magazines — the whole magazine is about how to properly prepare a dinner party. Really stereotypical and interesting and different from today [Laughs] with Cosmo and "How to Have a Better Orgasm." Some of the furniture is really neat too, but I'm not going to lug out a sofa. That would be weird. Mind if I take this? I don't think I could pull that off.
Q: What was that ceramic thing that Judy gets in trouble for taking?
A: The jardiniere. It's a French word and it's like a giant garden pot, but this one was pretty fancy and used indoors. It was heavy and more than half my size. That was awkward.
Q: Were you concerned about breaking it?
A: I was horribly nervous about it. Matt Weiner is very specific about every detail so that was a carefully selected prop and I don't think there was another one like it. I like to think Judy had some sentimental feelings about it or that Gene kindly offered it. It's probably the one thing that she just really loved and it's nothing to Betty, but she just can't have it.
Q: What part of being on Mad Men is the most fun for you?
A: It was such a valued acting experience. TV is very fast paced and you need to just come in and do your job. You're an extra for hire and you need to get it done fast. You're not exactly there to experiment with your skills. But they take as much time as they need and they approach the work very seriously. It's very validating. There is a tremendous amount of respect.
Q: Have you been watching Eric Ladin, your Mad Men husband on The Killing?
A: I have, yes. I'm very proud. [Laughs] He's a really good guy so I'm happy for him. It's kind of neat because every time I see him I think about my experience working with him on this. It's a good reminder.
Click here for an interview with Eric Ladin, who plays Megan's on-screen husband.
Read More