Press
Hollywood Reporter Says Creator Matthew Weiner Is Likely Emmy Contender as a Director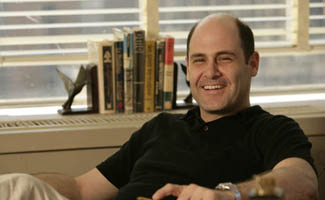 In Mad Men Emmy news, The Hollywood Reporter states that series creator Matthew Weiner's talent extends to his work as a director, making him a frontrunner for the Outstanding Director for a Drama Series Emmy. Meanwhile, in the New York Post, Kiernan Shipka is be lauded as her generation's Meryl Streep. Read below for more Mad Men News.
• Matthew Wiener is highlighted in The Hollywood Reporter as a contender for the Outstanding Director for a Drama Series Emmy for his work on the Mad Men episode, Tomorrowland
• The New York Post describes 11-year-old Kiernan Shipka, who plays Sally Draper on Mad Men, as a clone of Meryl Streep and talks with her about what her hopes and expecations are for Season 5.
• In an interview with Parade magazine, Christina Hendricks discusses her Goth style as a teenager. About Mad Men, she adds, "I know how lucky I am, and I don't take it for granted".
• In The LA Times, Mad Men creator Matthew Weiner talks about how he instantaneously knew Elizabeth Moss was perfect for the role of Peggy.
• Because of Mad Men's TCA Award nominations, EntertainmentWeekly.com predicts that the series is a frontrunner for this year's Drama Series Emmy.
• Christina Hendricks shows her support for fellow Mad Men co-star and soon-to-be-mom, January Jones and tells People Magazine, "I know January is going to be very warm and tender.I just think she's gonna rock."
• With filming of Mad Men Season 5 set for end of summer, CelebrityGossip.net caught candid photos of Christina Hendricks running errands in West Hollywood.
• The New York Post states Mad Men's Christina Hendricks' trench coat caught fire at a Tony Awards after-party.
Read More