Ten Memorable Mad Men Parties Just in Time for the Fourth of July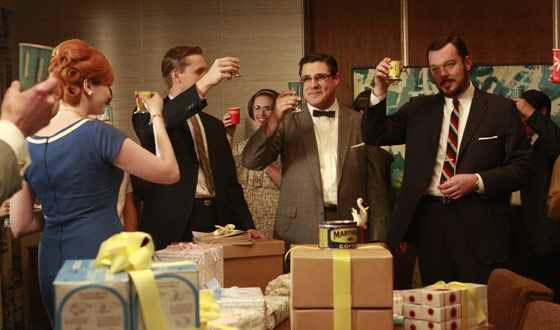 The Fourth of July is a time for celebration. But Independence Day isn't the only reason for festivities. Consider the ten unforgettable Mad Men parties listed below. Don't see your favorite cited? It may be because it's in this AMC blog post spotlighting the show's top ten drunk scenes. Still don't see it? Share your additions in the comments section below.
1. Season 1, Episode 3, "Marriage of Figaro"
After Betty requests he "take some movies," Don wanders through Sally's birthday party — a camera in one hand, a glass of whiskey in the other. Around him is mostly fun and games as new neighbor Helen Bishop and her son Glen make the introductory rounds and kids run through the house knocking over everything in their way.
2. Season 2, Episode 2, "Flight 1"
At his New Jersey soiree, Paul professes his love for New Jersey: "Montclair is the knees!," introduces his black girlfriend Sheila to his co-workers, and sets up the scene for a classic Peggy putdown to an unfortunate suitor: "I'm in the persuasion business, and frankly I'm disappointed by your presentation."
3. Season 2, Episode 7, "The Gold Violin"
It's Jimmy Barrett's Stork Club shindig in honor of ABC's signing of Grin and Barrett. Don arrives in a white tuxedo; Betty in a stunning blue gown. The celebration does hit a few bumps however as Jimmy confronts Betty about Don's infidelities then tells Don, "You're garbage. And you know it."
4. Season 2, Episode 8, "A Night to Remember"
Betty's international dinner party features gazpacho from Spain, Rumaki from Japan, and egg noodles from Germany. After Betty offers the group a "frosted glass of beer from Holland" (a.k.a. Heinken), Duck marvels at Don's talent for predicting his suburban wife's shopping habits.
5. Season 2, Episode 10, "The Inheritance"
"I just wanted to say Happy Birthday!" Bert Cooper quips cheerily. Not quite — it's actually a baby shower for bonnet-clad father-to-be Harry Crane, who's gifted with Lucky Strike cigarettes, Martinson coffee, Pampers, Playboy magazines and Clearasil.
6. Season 3, Episode 3, "My Old Kentucky Home"
A disappointed Joan learns Greg won't get the Chief Resident position but, like any good hostess would, she entertains the guests nevertheless — by playing accordion and singing in French.
7. Season 3, Episode 12, "The Grown Ups"
Margaret Sterling's fancy society wedding is the day after JFK's assassination, so there are no cake and no waiters, and guests are glued to the TV in the kitchen. The ever-quotable Roger toasts the newlyweds: "If you can make it through a day like today, marriage is a cakewalk."
8. Season 4, Episode 2, "Christmas Comes But Once a Year"
The SCDP Christmas party is upgraded "from convalescent home to Roman orgy" with "gifts, girls and games" for Lee Garner Jr. That means deli platters, Chinese food and plenty of alcohol. After a round of Pass the Orange and a conga line led by Joan, Roger dons a Santa suit for an impromptu photo session.
9. Season 4, Episode 4, "The Rejected"
Joyce and Peggy (looking "swelegant") hit up a downtown party with artists, pot and someone dressed as a bear. Enter a young writer named Abe, who isn't impressed by Peggy's resume but steals a kiss from her in a closet during the police raid.
10. Season 4, Episode 7, "The Suitcase"
Boyfriend Mark has set up Peggy's birthday bash at the Forum of the Twelve Caesars. He's ordered Oysters Hercules ("which you with sword shall carve") and invited surprise guests. The only thing missing? The birthday girl!
Read More