What You're Saying About a Mad Men-Inspired Father's Day Gift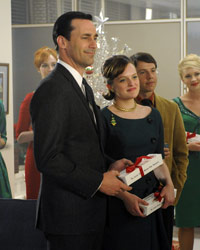 There's a perfect Father's Day present for every Maddict's dad and every dad who's a Maddict so when the Mad Men blog suggested eight series-inspired gift ideas, fans of the series picked up the charge with their own list of suggestions. Read below to see what the Mad Men fans have in mind.
• "If he likes modern art, the op art piece of art that's on Roger's office wall in Season 4. Or if you have the bucks, a Warhol." — MadMenSuz3.0
• "How about a set of Mad Men cocktail glasses? I can't find them anywhere" — Stefano Matozzo
• "How 'bout a Bert Cooper-inspired gift to dad: A copy of Atlas Shrugged by Ayn Rand" — ericcooley
Log onto the Talk forum to join a conversation or start a Mad Men topic of your own. As always, your comments throughout the blog are welcome.
Read More