Video
What You're Saying About Reports of Jon Hamm Directing the Mad Men Season 5 Premiere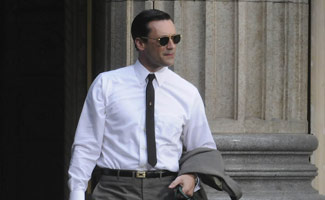 According to an article in The Hollywood Reporter recently, Mad Men will return for Season 5 in 2012 with Jon Hamm as the director of the very first episode. Fellow Mad Men actor John Slattery directed two episodes in Season 4 but Hamm would be the first cast member to be given the honor of directing a season premiere. Read below to see how fans are reacting to reports of Hamm's directorial debut.
• "Jon Hamm could stand on a dumpster in the middle of the desert and read the phone book, and I'd go to watch him. He's so darn sexy and gorgeous. Can't take it. Be still my heart!"– Debra Collins Safford
• "He can do it all!!!! Can't wait until Season 5!!!!!!"– Leslie McCollum Mobley
• "My God, amazing news, looking forward to his directorial debut."–Anita David
Log onto the Talk forum to join a conversation or start a Mad Men topic of your own. As always, your comments throughout the blog are welcome.
Read More