Games, Polls & Quizzes
What You're Saying About the Mad Men Quote Game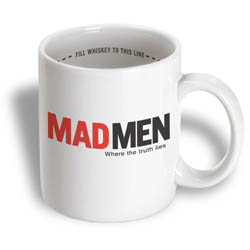 Every week, AMCtv.com honors the Talk forum and blog commenters by quoting them in the weekly "What You're Saying" post, then awarding those who have commented as registered AMCtv.com users prizes like a Mad Men poster or coffee mug (limit one per person).
Since Mad Men Season 2, fans of the series have been paying homage to the show's award-winning dialogue with a self-generated Quote Game which started on the Mad Men Talk forum Sep. 25, 2008. The set-up is simple: One fan, hanna, challenged fellow Maddicts to identify who said, "I'm the only Jew you know in New York City?" as well as its episode of origin then encouraged fellow Maddicts to follow with an unattributed quote of their own choice for other fans to figure out. With more than 24 editions to date, the online challenge is one of the most popular features on Mad Men's Talk forum. Read below for some reactions from the fans.
• "Who would have thought we could go on and on and on. But here we are!"– Wasthere
• "Wow. You guys are GREAT!… This was nearly as addictive as the show!" — …racy
• "I have my son and Mad Men partner searching for the quote. We have three people in mind, but both of us want to find the actual quote." — rubadon
Click here to see all editions of the Quote Game.
Log onto the Talk forum to join a conversation or start a Mad Men topic of your own. As always, your comments throughout the blog are welcome.
Read More