Press
The Hollywood Reporter States Jon Hamm Will Direct Season 5 Premiere; Christina Hendricks Sits at Emmy Roundtable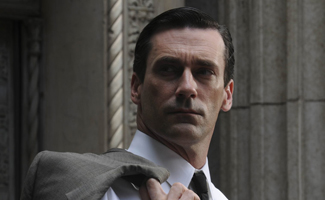 This week, The Hollywood Reporter and other outlets have news that Jon Hamm will direct the first episode of Mad Men's new season, while Christina Hendricks has a candid discussion with the outlet about fame. Read on to see what else happened this week.
• The Hollywood Reporter has news that Jon Hamm is set to direct the Season 5 premiere of Mad Men. The idea of directing has been "in the back of my mind for a while now," says Hamm. "I watched [John] Slattery do it, and he handled it with such grace and ability and ease. I figured if he can do it, s—, I can do it, too." Deadline Hollywood, Digital Spy and The Wrap also report on the announcement.
• The Hollywood Reporter has video of an Emmy Actress Roundtable with Christina Hendricks, who shares her appreciation that "Mad Men has really changed my entire career."
• Indiewire.com reports on a Mad Men discussion panel that included Matthew Weiner, Jon Hamm and Elizabeth Moss, during which Weiner stated, "This is a dream come true, and all the cliches about doing a job you love are true."
• Variety Magazine discusses Mad Men creator Matthew Weiner's feeling that imitation of his Emmy-award winning show by other networks is the best form of flattery.
• Cynopsis Media lists its Mad Men Emmy Predictions, which include Jon Hamm and Elizabeth Moss for Best Actor and Actress, respectively.
• Comic Book Resources.com interviews Elizabeth Moss, who will be providing voice-over for an animated character in the Green Lantern: Emerald Knights film coming to DVD and Blu-Ray next month.
• Twirlit.com promotes natural beauty with an article about how Christina Hendricks is celebrating the body she was born with.
Read More