Interviews
Q&A – Melinda Page Hamilton (Anna Draper)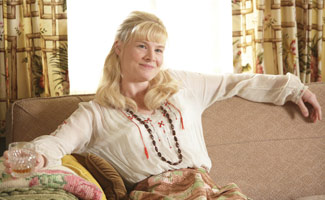 The actress who plays Anna Draper, the real Don Draper's wife, talks about the significance of being one of the few women on Mad Men without flashy lipstick and reveals how she felt when she found out her character was going to die.
Q: How did you feel about your costumes compared to the other women?
A: When I first started, and they were putting me in this old terrycloth robe and trying to streak my hair gray, I thought, "You're on Mad Men, you think great costumes, fabulous hair, gorgeous make-up, and look at me!" So I think I had a little bit of actor ego twinge that I didn't get the vermilion lipstick and the perfectly-coiffed hair. But as you begin to walk in the character, you think, "This woman is amazing. She's not like all the typical women on that show. She does have a different trajectory and that's reflected in the clothes." I grew to really love the clothes, the almost pre-hippie looseness of them, the playfulness of some of them, the color, the lightness.
Q: How did they make you and Jon Hamm look age-appropriate in the flashback scenes?
A: It was not easy. But part of it is just, the costume, makeup and hair team on that show are just phenomenal. I think it was both a style thing, in terms of doing the clothes from the previous years, and also a lot of it had to do with the spirit of the scenes. There's a very different kind of emotional color to those early scenes than to the later ones. I think that brought it into the past much more effectively.
Q: Did your approach to playing Anna change over time?
A: My approach to the role absolutely evolved and changed over time. I think the first inkling of it was [Don] was a person she loved deeply, that she would never have in sort of the typical way. But they had been given to each other for a bigger purpose to fulfill in each other's life. At first, as an actress, that fills you with a kind of longing and sadness. But, what I discovered about Anna, just in the playing of her and with Matt [Weiner]'s help, is that she really doesn't locate herself in that sadness or that longing. It may be there, but it's a much more expansive feeling she has for him. It's not one of regret or lack; it's more a kind of expansive enjoyment and delight. That helped shift me throughout the seasons into evolving into that relationship of just total delighted acceptance in each other and love for one another that had nothing to do with what he did, but everything to do with who she perceived him to be.
Q: Anna knows Don's real name is Dick Whitman pretty much from the start. How did that affect the way you played her?
A: There was this kind of intimacy immediately with Dick because she just got it. Occasionally, you get these characters and relationships that, as an actor, you just fall into. And I felt like that history was there with Jon [Hamm] from day one, and I knew exactly who he was to me and me to him. It was just there, without a lot of premeditation, without a lot of effort.
Q: When did you find out that Anna was going to die?
A: About two days before the table read when I got the script. I was like, "No!" But it's so funny because as soon as they called me back, I had this weird, intuitive feeling, like, I bet I'm dying. I understand why it happened. In terms of Don's evolution, it was an important plot development. I love the show so very much that you keep an eye toward the bigger picture, that you're just a humble player in that much bigger story. I'm lucky to have played the part I played for as long as I did.
Q: What was it like shooting the farewell scene in "The Good News"?
A: I did at times get a little emotional. There were a couple of takes where I had to hide my head a little bit because saying good-bye brings up all sorts of things, whether you know it's for good, for forever or not.
Q: How did you shoot the dream sequence in "The Suitcase"?
A: They brought me back for that episode, and Matt said, we're going to give you good makeup and good hair for this. It was sort of my parting gift — you get to look nice and pretty! I loved it. It's definitely a risky kind of thing to do because it cannot work if you do it incorrectly. But I think there's such a crackerjack team over there that they really kind of hit it. It's this moment of goodbye, simple yet profound. It was about a three-hour shot from soup to nuts.
Click here to read an interview with Jon Hamm, who plays Don Draper.
Read More