Mad Men Stars Are Set to Heat Up the Box Office This Summer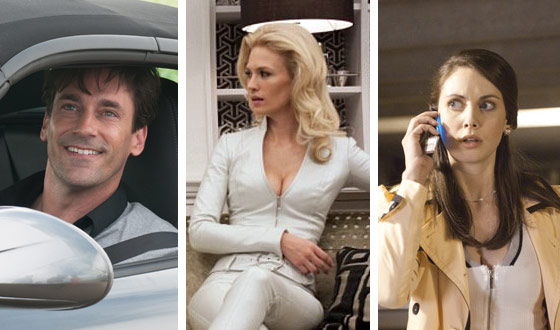 Do you miss seeing your favorite Mad Men actors in action? Don't worry — here's a spate of summer movies that ought to appease your Maddiction and keep you going through the long months ahead until Mad Men is back on air. From Jon Hamm as a boy toy in Bridesmaids to January Jones as a villainess in X-Men: First Class, there are plenty of opportunities to watch Mad Men stars strut their stuff in the off-season.
Vincent Kartheiser, Rango
In Theaters: Currently
You may not see Kartheiser in this animated Johnny Depp flick, but perceptive listeners will be able to pick out his voice. He plays Ezekiel, a rodent who's part of a gaggle of moles and prairie dogs accused of stealing water from a desert town.
Alison Brie, Scream 4
In Theaters: Currently
In this continuation of Wes Craven's horror franchise, Brie, a self-professed Scream fan who made a parody with her friends called Yell, plays an ambitious assistant to Neve Campbell's heroine. And yes, Brie gets her moment with Ghostface Killer.
Jon Hamm, Bridesmaids
In Theaters: May 13
Hamm fans (who are we kidding… everyone) will appreciate his cameo in this Kristen Wiig comedy about the trials of being a maid of honor. Making a shirtless appearance, he plays one of Wiig's steamy flings. Who's to say Hamm wasn't cast in this role because of his experience as Don Draper?
January Jones, X-Men: First Class
In Theaters: Jun. 3
No more buttoned-up homemaker dresses for Jones: As telepathic mutant Emma Frost, the actress dons racy, revealing costumes that would make Henry Francis blush. Just imagine what Mad Men would have been like if Betty had Emma's telepathic powers!
Christina Hendricks, Drive
In Theaters: Sep. 16
Little has been revealed about Hendricks' role in Drive, but the premise — a Hollywood stunt driver (Ryan Gosling) moonlights as a getaway driver — sounds enticing. It also stars Breaking Bad's Bryan Cranston. If AMC's casting choices are any guide, this movie should be a massive hit!
Christina Hendricks, I Don't Know How She Does It
In Theaters: Sep. 16
Hendricks has not one, but two movies coming out this September. Details are equally scarce about Hendricks' role in this modern comedy about an executive who supports her husband and kids. But Hendricks is in good company: Sarah Jessica Parker, Greg Kinnear and Pierce Brosnan will share the screen with her.
Read More