What You're Saying About Mad Men's Nostalgic Factor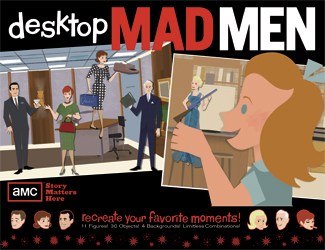 Every week, AMCtv.com honors the Talk forum and blog commenters by quoting them in the weekly "What You're Saying" post, then awarding those who have commented as registered AMCtv.com users prizes like a Mad Men poster or coffee mug (limit one per person).
For many fans, Mad Men is more than great television. It's a walk down memory lane. The show's costumes, hairstyles, sets, soundtrack and smartly executed references to historic events trigger very specific memories for certain viewers. Because of that, many Maddicts see Mad Men as a polished reflection of their own — and their parents' — life and times. Check out the forum topics below and join a conversation about girdles, curfews, and telephones that rang and rang and rang.
• A Mad Men Summer – 1960s Style: A lively discussion of how fans spent their summers back in the day
• What Do You Wish Would Return From Mad Men Days: A celebration of the fedora (among other things) and a longing for a return of the lunchtime cocktail
• On The Street Where You Lived: Anecdotal reports about just how different life in the suburbs was 50 years ago (Ossining and elsewhere)
•What Things Did You Do Back In the Early 1960s That Were Unique To That Time: Asbury Park, The Million Dollar Movie and baby oil for suntan lotion
Log onto the Talk forum to join a conversation or start a Mad Men topic of your own. As always, your comments throughout the blog are welcome.
Read More