Press
Mad Men on Netflix Instant; EW Reveals Hamm's Summer Plans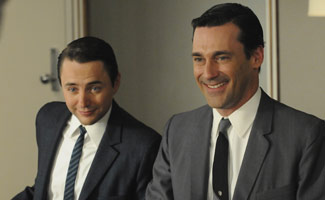 Mad Men's multi-season renewal is still generating buzz from major outlets this week, while an announcement that Netflix will stream the series stirs new buzz.
• Mad Men's renewal deal continues to receive coverage across such outlets as Variety, Business Insider, The Hollywood Reporter, IndieWIRE, Today, Mediaweek, Hitfix and more.
• Media outlets including The Wall Street Journal, The Hollywood Reporter and The Los Angeles Times report that episodes of Mad Men will be available for online streaming on Netflix Instant starting Jul. 27.
• Entertainment Weekly takes a look at what projects Mad Men's Vincent Kartheiser, Jon Hamm, Elisabeth Moss and Christina Hendricks will be working on over the summer.
• Mad Men elicits mentions in Entertainment Weekly and Crave articles about AMC's new show The Killing, which explain how the network's standard of excellence was set.
• Fox News references Mad Men in a headline that reads, "NBC Hopping on 'Mad Men' Train With Retro Show About Hef's Glory Days".
• AdWeek credits Mad Men with "turn[ing] around the perception" of AMC in its report on Starz Channel's hopes for the success of The Kennedys.
• NY Mag's Mad Men haiku contest has winners! Check out the victorious five, including this one by LOSTNEWYORKER: Sally's innocence / Melting away like the ice / In Don's old fashioned
Read More