Awards
What You're Saying About Matthew Weiner on Time's Most Influential People List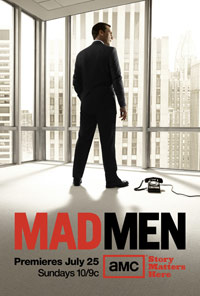 Every week, AMCtv.com honors the Talk forum and blog commenters by quoting them in the weekly "What You're Saying" post, then awarding those who have commented as registered AMCtv.com users prizes like a Mad Men poster or t-shirt (limit one per person).
Time Magazine has named Mad Men series creator Matthew Weiner as one of the world's 100 Most Influential People of 2011, and fans of the series are thrilled. In the article written by Elisabeth Moss (Peggy), Weiner is described as a genius, poet, artist and "a seeker of truth." Read below to see what Maddicts have to say about Time's selection.
•"He deserves to be in that list. I think of Matt as a modern genius, it's so brilliant that it is hard to explain it with words. Thanks for ALL Mr. Weiner."– Pepe Silva
• "Matt Weiner is creative genius for Mad Men." — Nancy Orjala
• "Matthew Weiner is brilliant! … He sure knows how to recreate the mood and authenticity of the '60s. … So legitimate — so truthful — so accurate." — Heather Hunter
Log onto the Talk forum to join a conversation or start a Mad Men topic of your own. As always, your comments throughout the blog are welcome.
Read More