What You're Saying About Mad Men's Renewal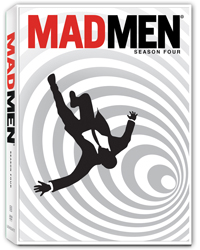 Every week, AMCtv.com honors the Talk forum and blog commenters by quoting them in the weekly "What You're Saying" post, then awarding those who have commented as registered AMCtv.com users prizes like a Mad Men poster or Season 4 DVD set (limit one per person).
Maddicts across the web are giddy with excitement about the big news: The show's renewal! Fans of the series are now eagerly anticipating Season 5's 2012 premiere and have plenty to share about it. Check out what some Maddicts had to say about the return of their favorite show:
• "Some things are worth waiting for, and if you're really a MadMen fan, you know that this show is one of them. Can't wait for 2012!" — strawberryjam87
• "Good news that this quality program will be back for more seasons. Good work Weiner, AMC and Lionsgate." — sandra
• "THANK YOU SO MUCH! Can't wait to see season 5, 6 and hopefully 7." — Sigrid Dyekjær
Log onto the Talk forum to join a conversation or start a Mad Men topic of your own. As always, your comments throughout the blog are welcome.
Read More