Uncategorized
Q&A – Eric Ladin (William Hofstadt)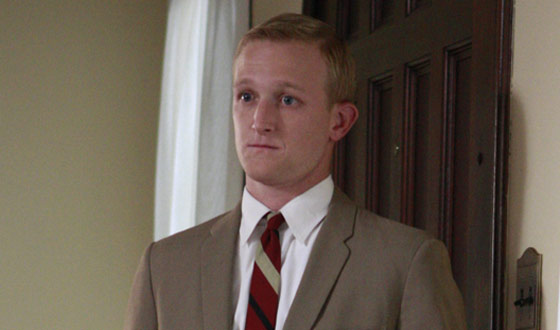 Eric Ladin, who plays Betty Francis' brother William Hofstadt, spoke with AMCtv.com about his most coveted prop on the Mad Men set and making the jump from Mad Men to The Killing.
Q: William seems pretty unwilling to take care of Gene in his old age. What did your parents think about that?
A: [laughs] They were fans [of Mad Men] before I was on the show and were thrilled when I got a role. I think they are also extremely thrilled to know that William will not be taking care of them. … I made it very clear I wasn't going to try to put them in a home and steal the house.
Q: That house was such a great location. Was there anything you coveted?
A: There's a lighter that Betty used in the house that's like a big heavy block lighter that sits on the table, not like anything you would put in your pocket or a purse. And that's what my grandfather used to have on his desk. That always reminded me of him and being a kid and going to his office. I've got a photo of my grandfather when he was probably in his thirties and you could put that picture next to a picture of Don and they look like they could be twin brothers. He was right in that era. It's cool. He was in the furniture business but he was pretty slick.
Q: Betty says Gene used to fine them for small talk. What did you get in trouble for while growing up?
A: Gosh, what didn't I get in trouble for growing up? Honestly, I was a good kid but I figured out pretty early that I had a gift for making people laugh. I wanted to entertain and when that happens you tend to get yourself in trouble in class. I was making frequent trips to the principal's office for speaking up or practical jokes or doing whatever I could to make whatever girl I had a crush on laugh. Nothing really malicious. It's funny: All my friends back home are always wondering why every television show I'm on is a drama, but all the comedy pilots I did died a slow and painful death. [Laughs] So either I'm not as funny as I think I am or it's not meant to be.
Q: Will talks about hiding in the tree house to avoid family drama, even as an adult. Did you have a place like that growing up?
A: My friend Jonathan had a great tree house. It was awesome. It was like a big fort up in this tall magnolia tree. … That's where we would conduct our very important business, I'm sure, with all our bikes leaning up against a tree and no girls allowed, handling all sorts of important things you handle when you're seven or eight.
Q: What did your friends say about you getting to work so much with January Jones?
A: I don't think their eyes came off of January and on to me. Most of them just want to know: Is January dating anyone? Can you hook me up with January? [Laughs] What's your status with January? Should I come out and visit the set? Am I January's type? To be honest, I'm not even sure they knew I was on the show. It was just a matter of me being an in to get to January.
Q: Did you know you would be doing multiple episodes when you got the part?
A: It was a very pleasant surprise. I did one, and I was saying goodbye to January and she says, "Oh, we'll see you again obviously," and I remember saying goodbye to Jon and he was, "Alright man, we'll see you next season." Sure enough, I came back. They could have known what kind of arc the family storyline was going to take, or maybe they were just lying and being polite and then it turns out that they were right.
Q: I wonder what William would think about Betty's life now…
A: Please, talk to Matthew Weiner. See if he can write me another couple episodes and we can just clear all this up.
Q: Your career seems to have really taken off in the past few years. Is there a moment when you felt like you had made a breakthrough?
A: It was probably when I worked on Generation Kill. Once I had come home from working on that I was more confident in my work, who I was and what kind of work I wanted to do. And coming off HBO and going to AMC to do Mad Men, that really solidified it for me. I had taken a step towards not only working consistently but working consistently on really great projects. Then I went over to HBO again and did Big Love and now back to AMC to do The Killing. [As of this moment,] everybody seems to be pretty sure I'm the killer, which is always fun: On the [Suspect Tracker] site where you pick the killer, I'm winning in a landslide.
Click here to read an interview with January Jones, who plays William Hofstadt's sister Betty.
Read More