Games, Polls & Quizzes
Mad Men Cocktail Culture App Nominated for Webby Award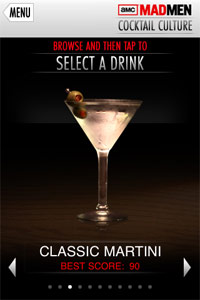 The 15th Annual Webby Awards nominees have been announced, and the Mad Men Cocktail Culture App is a contender in the Games category! One of only five nominees in this category, the Mad Men Cocktail Culture App is actually eligible for two awards: The Webby Award and The Webby People's Voice Award.
While the Academy selects the former, the online public chooses the latter. The Cocktail Culture App is facing some serious competition, too: Angry Birds, Elmo's Monster Maker, Farmville and Fruit Ninja are also in contention. That means you now have an opportunity to show that Mad Men rules online as well as on-air. Register at this Webby Awards website then vote for the Mad Men app in the Webby Games category. Voting ends Thu., Apr 28.
Webby Award and Webby People's Voice Award Winners will be announced on Tue., May 3. Winners will be honored at the 15th Annual Webby Awards in New York City on Mon., Jun. 13.
Read More